Aji Pimento Cheese Crackers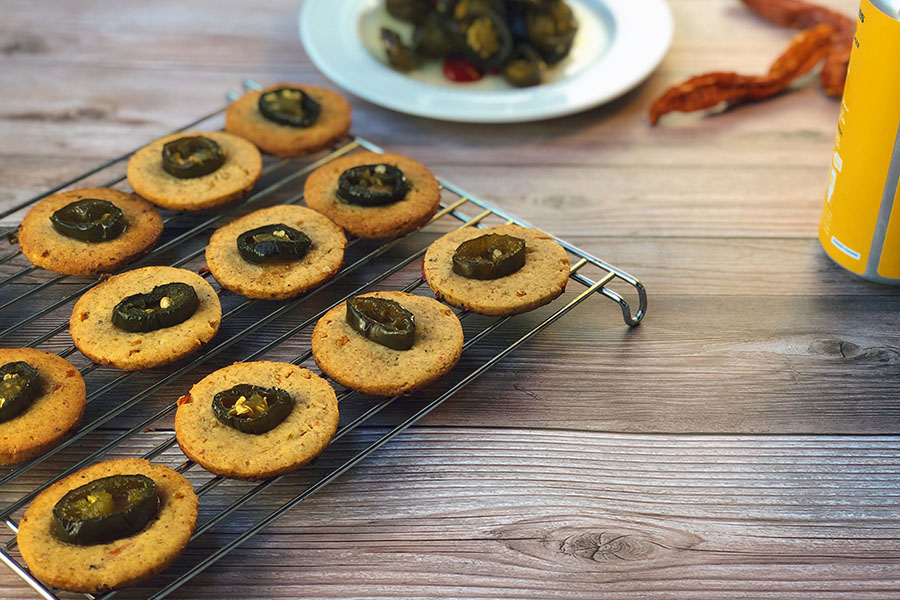 These little crackers combine a range of delightful chili flavors into every bite and will add a unique twist to your snacking or appetizer lineup. The mild pimento cheese is complimented with Aji mirasol chili peppers. They are mild and fruity with hints of tamarind and tomato. The pickled jalapeno on top adds a kick- but not too much. Orange zest brings the flavors together nicely.
Ingredients
1 cup pimento cheese
2 tablespoons unsalted butter, at room temperature
1 1/2 cup all purpose flour
2 tablespoons finely diced aji mirasol
2 tablespoons white sugar
1 tablespoon orange zest
1 teaspoon ground toasted cumin
1/2 teaspoon ground Vietnamese black pepper
sweet pickled jalapeno slices, patted dry, for garnish
Instructions
Combine the pimento cheese and butter in a mixing bowl and beat with electric mixer until combined.
Add the flour, aji mirasol, orange zest, toasted cumin, pepper and sugar and mix until incorporated.
Flatten the dough into a dish and wrap securely in plastic. Chill dough for at least 2 hours and up to 2 days.
Preheat oven to 400.
Unwrap dough and place it on a floured surface.
Roll the dough to 1/8" thickness, and using a cookie cutter, cut into desired shape. Re-roll left over dough until its gone.
Place the cookies onto a baking sheet lined with parchment paper.
Gently press a pickled jalapeno slice in the center of each biscuit.
Bake for 15 minutes or until golden brown.
Cool slightly before transferring to a cooling rack to cool completely.
Notes
We used the Whole Foods brand pimento cheese. 
© 2023 World Spice Merchants https://www.worldspice.com