Asian Chicken Salad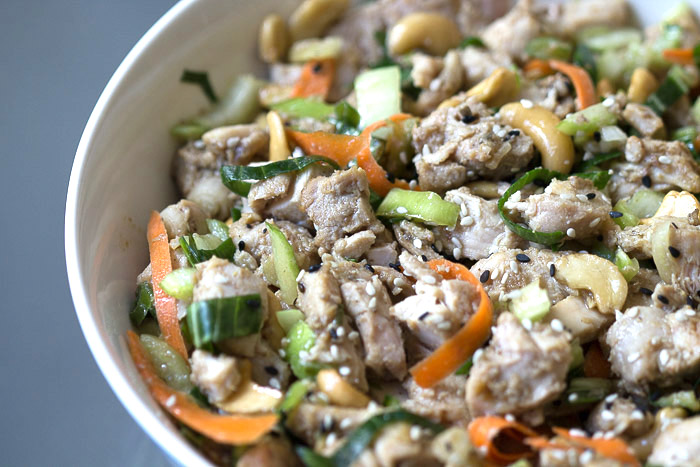 We're crazy in love with our Cascade Mushroom Mix, featured in this Asian chicken salad with just the right embellishments. We put the mushroom mix in the marinade, where the umami flavor magic made the meat meatier. The depth of flavor was unbelievable, so we created two more versions to enjoy!

For the Asian chicken salad, we added carrots, cashews, and bok choy. After you've tried this recipe, check out our Middle Eastern and Mediterranean versions for more mushroom marinade goodness!
Ingredients
For the Marinated Chicken
1/3 cup avocado oil
2 tablespoons toasted sesame oil
1 tablespoon soy sauce
2 teaspoons freshly grated ginger
3 tablespoons apple cider vinegar
2 tablespoons Cascade Mushroom Mix
2 pounds boneless skinless chicken thighs
For the Chicken Salad
1-2 baby bok choy, diced
1/3 cup grated carrot
3 scallions, diced
1/3 cup roasted cashews
1 teaspoon Gomasio of Osaka Salt
Instructions
For the Marinated Chicken
Combine the avocado oil, toasted sesame oil, soy sauce, ginger, apple cider vinegar and Cascade Mushroom Mix in a heavy duty 1 gallon ziplock bag. In a small bowl, reserve two tablespoons of the marinade for finishing.
Add the chicken thighs to the marinade in the bag, and marinate at least one hour.
Preheat the oven to 350 degrees.
Transfer the chicken and marinade to a glass baking dish and bake, uncovered for 30-40 minutes, until it is cooked through.
For the Chicken Salad
When the chicken is cool enough to handle, cut the chicken into bite sized pieces and transfer to a large bowl.
Add the vegetables, nuts, and reserved marinade. Stir to combine.
Garnish with Gomasio
© 2022 World Spice Merchants https://www.worldspice.com