Brussels Sprouts with Za'atar and Nigella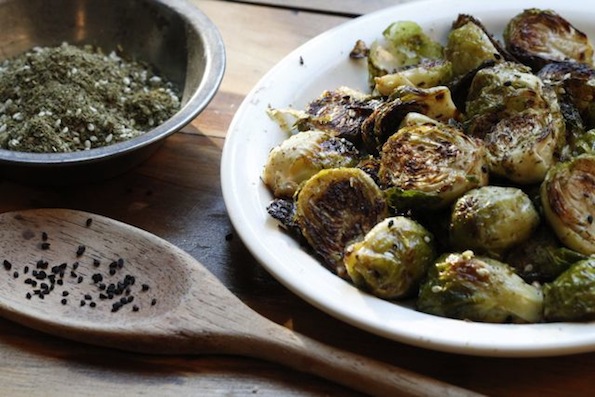 Brussels sprouts are a leftover food trauma from childhood that I've finally overcome. The limp, stinky-sulfur blobs (sorry, Mom) have been replaced with a crisp, roasted vegetable that is full of flavor and befitting a fall feast. Best of all, these are easy to make and a perfect vehicle for one of my favorite spice blends, Israeli Za'atar. The combination of herbs, sesame and sumac make this spice blend good enough to eat straight out of the jar, but it is even better on the brussels sprouts. A sprinkle of nigella seeds tops the dish off with an exotic garnish and a hint of nutty onion flavor.
Ingredients
1 lb. brussels sprouts
2 tablespoons extra virgin olive oil
½ teaspoon kosher salt
1 teaspoon balsamic vinegar
1 teaspoon Israeli Za'atar
½ teaspoon nigella seeds
freshly ground black pepper
Instructions
Preheat oven to 425 degrees.
Trim the stems on the brussels sprouts, remove the outer leaves and cut in half.
In a large bowl, combine the brussels sprouts with 1 tablespoon of olive oil and kosher salt, and toss to coat.
Transfer the brussels sprouts to a lightly oiled sheet pan and roast, stirring occasionally, until they are golden brown, about 20 minutes.
Return the brussels sprouts to the bowl and add the balsamic vinegar and remaining 1 tablespoon olive oil, tossing again to coat. Sprinkle on the Israeli Za'atar and season to taste with freshly ground black pepper.
Transfer the roasted brussels sprouts to a serving dish and garnish with nigella seeds.
Makes 4 side servings.
© 2022 World Spice Merchants https://www.worldspice.com