Nigella Wheat – Free Thins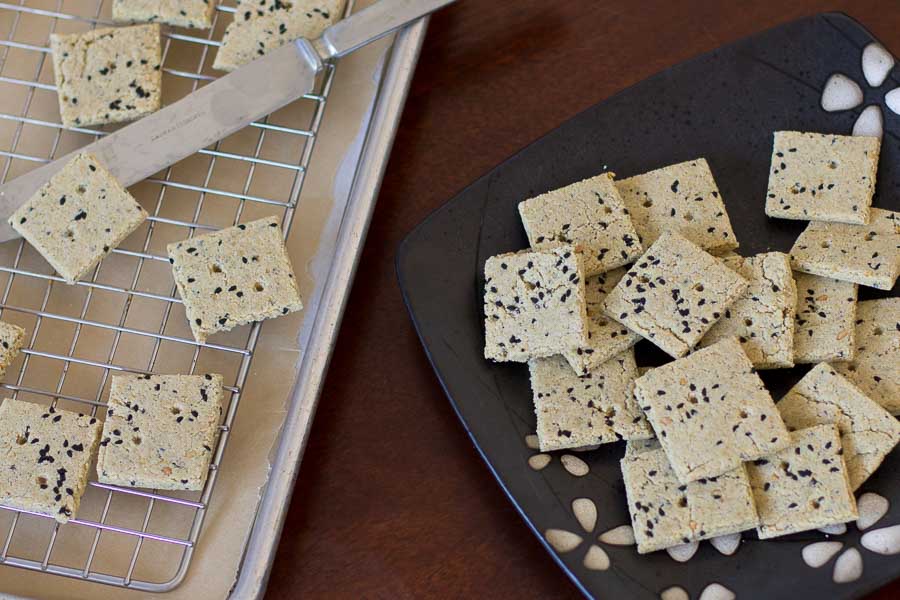 These delightful grain-free crackers are sure to become a favored new addition to your baking repertoire. Slightly sweet from the almond flour, yet savory enough to use with a dip, these wheat-free, grain-free crackers are easy to make and keep exceptionally well for whenever that 'crunchy' craving hits. The nigella seeds add an extra dimension of toasty, oniony flavor and a toothy bite that creates an exceptionally satisfying mouth-feel. Nutritional yeast is an inactive yeast that lends a cheesy, nutty, savory flavor as well as a bounty of nutrients, including B vitamins, trace minerals and all 9 essential amino acids. The result? All of the taste, but none of the guilt in a snappy little snack cracker.
Ingredients
2 cups (7 oz.) almond flour
2 tablespoons nutritional yeast (small flake)
2 teaspoons nigella seed plus more for topping
2 teaspoons yellow flax meal
½ teaspoon baking soda
1/4 teaspoon salt
1 tablespoon + 1 teaspoon egg white
1 tablespoon + teaspoon cold water
1 tablespoon + 1 teaspoon refined coconut oil, melted
Instructions
Preheat oven to 350 F. Have 2 baking sheets ready. You'll also need 3 pieces of parchment paper the size of a baking sheet: 2 to line the pans with, and one to put on top of the sticky dough when you roll it out.
Grind 2 teaspoons nigella seed in a spice grinder for 5 seconds, just till roughly broken. Place all the dry ingredients (except the whole seeds for topping) into the bowl of a stand mixer and mix briefly. Add wet ingredients and mix together to form wet crumbs, about 30 seconds.
Transfer half the mixture onto a sheet of parchment. Using your hands, roughly press and shape the dough into a rectangle ½" thick. Sprinkle with extra whole nigella seeds and a little salt, then cover with a second sheet of parchment and roll the dough out to just under ¼" thick. Straighten the sides with an offset spatula, patching as needed to maintain straight edges. Don't worry if it's a bit oily and crumbly, it'll come together.
Using a pizza cutter or knife, cut the dough into 1-1/2" squares, making 3 cuts the long way and 5 cuts the short way. Use the small end of a chopstick to gently press a dot into each cracker. Use the offset spatula to gently lift and separate the crackers so they're not touching one another. Slide a baking sheet under the parchment, and repeat with second half of dough.
Bake crackers for 10 minutes, rotating pans halfway through. Crackers will barely turn golden around the edges, and will look dry and slightly puffed. Crackers will firm up more as they cool, so don't be tempted to over bake them. Cool pans on rack for 5 minutes, then remove crackers to cooling rack to cool completely. Store in an airtight container at room temperature.
Notes
To make egg white easier to measure, first beat lightly with a fork to loosen it up. Then pour into the measuring spoons.

© 2022 World Spice Merchants https://www.worldspice.com
Recipe adapted from "Against All Grain" by Danielle Walker
Play with your crackers!
It's super easy to change the flavor of these crackers by substituting other spices or seeds for the nigella. Try poppy seed, sesame seed, caraway seed, or any of our dozens of spice blends, such as Habanero Garlic Pepper, Indian Garam Masala or Harissa. The use of refined coconut oil is to avoid the coconut taste, but by all means use unrefined if you like.