Salami Wrapped Melon With Candied Fennel, Anise, Coriander and Pink Peppercorns
This easy and refreshing starter is a playful take on the favorite Italian appetizer, Prosciutto e Melone.  Featuring Finocchiona Salami and Salumi Salami from our friends at Salumi Cured Meats, we finish it all off with colorful, crunchy and exquisite candied anise, fennel, Indian coriander and pink peppercorns.  The salty savoriness of the salami is a perfect compliment to the super sweet melon.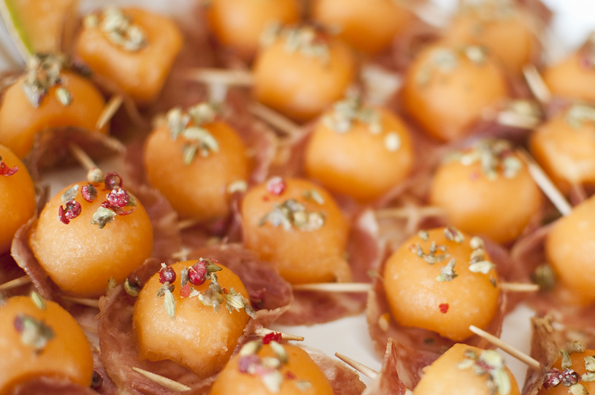 You'll want a completely ripe melon for this dish, so look for melon skins that are firm and free of bruising or soft spots.  The stem end should not be green, and the end of the melon opposite of the stem should have a nice strong pleasant aroma.
A great offering for the upcoming Labor Day BBQ's and picnics.  Enjoy!
Candied Fennel, Anise and Coriander Seeds
Ingredients
1 melon - cantaloupe (aka muskmelon) or any other ripe variety at your local market
10-15 slices of salami, thinly sliced

For Candied Seeds

1/4 cup pink peppercorns
1/4 cup toasted fennel seeds
1/4 cup toasted anise seeds
1/4 cup toasted Indian coriander seeds
1/3 cup sugar
2 teaspoons olive oil
3 tablespoons water
1/8 teaspoon baking soda
Instructions
For the Candied Seeds:

Toast fennel, anise and Indian coriander seeds, lightly, in a dry skillet. Transfer to a plate.
Put sugar, water and butter in a saucepan over low heat until sugar dissolves. Once the sugar dissolves, increase heat and boil for about 2 minutes (or until the liquid is thick and syrupy.
Remove from heat and add the baking soda, toasted seeds and pink peppercorns. Mix rapidly to coat seeds and peppercorns with syrup.
Pour mixture on a parchment lined cookie sheet, pressing them lightly to separate.
Allow to cool completely and they are ready to use with the melon recipe.

For the Melon:

Slice melon in half and remove seeds
Using a melon baller, scoop out the melon balls
Place melon balls atop a lovely slice of salami and secure with a toothpick
Sprinkle each melon ball with the candied seeds and pink peppercorns
Arrange on a platter and serve
https://www.silkroaddiary.com/candied-fennel-anise-and-coriander-seeds/
World Spice Merchants https://www.worldspice.com