Caraway Eccles Cakes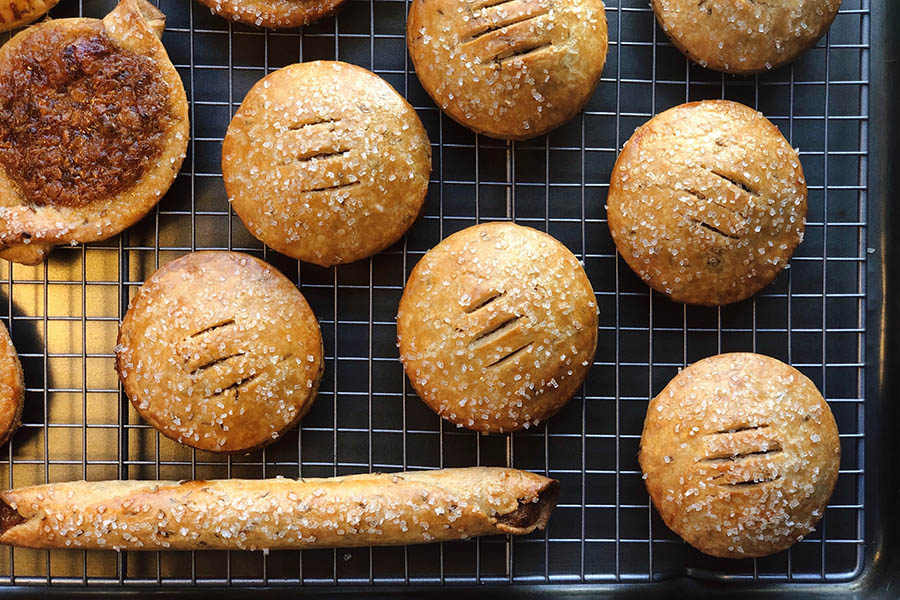 These tasty pastries are inspired by Eccles cakes, which take their name from the town in northwestern England. The traditional cakes are made from pastry stuffed with currants, candied citrus peel, and spices. We've left the currants out of this version, though they could be easily re-introduced for anyone who can't imagine the pastry without their signature ingredient.
For a new take on the Eccles cake, we added caraway seeds to the crust and filled them with orange marmalade and white cheddar. The caraway is earthy, and compliments the bitter sweetness of the orange. Our version of the crust is leavened with butter and cream cheese, and the results are flaky, golden brown and delicious.
Ingredients
Dough:
2 cups all-purpose flour
2 tablespoons sugar
1 teaspoon whole caraway seeds
1/2 teaspoon salt
1/2 cup cold butter, diced
1/2 cup cold cream cheese, diced
1/2 cup ice-cold water
Filling:
1 tablespoon all-purpose flour
1/2 teaspoon Pumpkin Pie Spice
3/4 cup orange marmalade
1 cup shredded white cheddar cheese or brie
Garnish
1 egg white, whisked
sparkling sugar
Instructions
To make dough:
In a medium-sized bowl, whisk all of the dry ingredients for the dough. Add in the diced butter and cream cheese, kneading the flour mixture by hand until the butter and cream cheese are pea-sized.
Slowly mix in the ice cold water until incorporated. Don't over knead, as small butter and cheese pockets are what will help the dough rise.
Roll out the dough until it's a 1/2 inch thick, then fold the dough in half and then half again - this will create the flaky layers in the pastry.
Refrigerate dough for 30 minutes.
Roll out the dough to be 1/4 inch thick and lay on parchment paper. Cover with more parchment and refrigerate for two hours.
To make filling:
In a small bowl, whisk the tablespoon of flour and Pumpkin Pie Spice together, then add the marmalade. Stir in the cheese and refrigerate filling for an hour before assembling cakes.
To assemble and bake:
Preheat the over to 400 degrees.
Using a 3-inch circle mold, cut out as many circles as possible out of the dough.
To assemble, add a heaping teaspoon of filling in the center of a circle. Lightly brush the edges with whisked egg whites, then add a pastry circle on top. Gently press down the edges until a seal is made. Crimp the edges if necessary to create a seal make the pastry appear seamless. Repeat with remaining dough circles and filling.
Place cakes on a sheet pan lined with parchment paper. Leave about a half inch of space bewteen each Eccles cake.
Using a pairing knife, cut three half-inch holes on top each cake. Brush the cakes with whisked egg whites and sprinkle on sparkling sugar as decoration.
Bake for 20-22 minutes or until golden brown. Let cakes cool for 10 minutes before serving. These pastries are best eaten the same day.
Notes
Have fun with these. The filling possibilities are endless! Cherry, apricot and fig preserves are delicious with caraway, as well. 
© 2023 World Spice Merchants https://www.worldspice.com