Cuban Spiced Black Bean Soup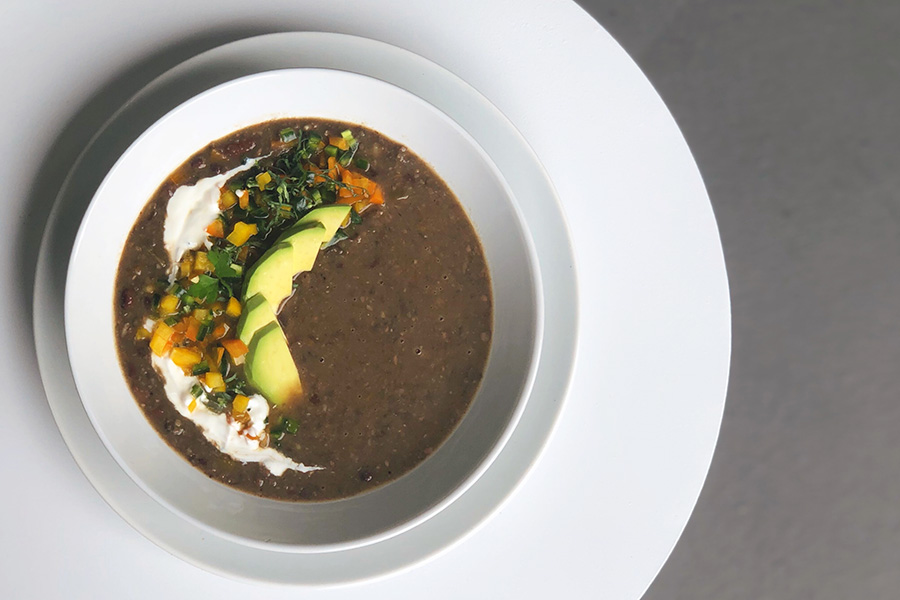 As the days are getting shorter, the air is getting colder, and here in Seattle the sun is making fewer and fewer public appearances. It can be easy to get lost in the gloomy grey blanket of winter in the Pacific Northwest (I know I'd rather be on a beach), but winter does bring the time for some of my favorite meals. Rich, hearty, long-simmering stews, soups, and braised meats can be the perfect accompaniment to a cozy night indoors by the fire or fortification to warm you from the inside when you have to brave the elements outdoors.
To beat the winter blues, I like to crank up the rumba, turn on the sun lamp, and make a big pot of Cuban Spiced black bean soup while day dreaming about a Havana vacation. Our Cuban Spice adds a bright flavor to hearty ingredients like black beans and ham, and brings them together with fresh ingredients . Although this recipe is very mild, it takes a few hot peppers quite well for those of us looking for a little extra zing.
Ingredients
1 pound dried black beans
2 tablespoons ground Cuban Spice
Kosher salt and freshly ground pepper
1 onion, medium dice
3 cloves garlic, minced
1-1/2 bell peppers, medium dice
2 ham hocks
1/3 cup olive oil
1/4 cup apple cider vinegar
For Garnish
1/2 cup sour cream
1/2 bell pepper, medium dice
1 avocado, sliced
2 tablespoons of cilantro, chopped
Instructions
Wash the black beans and soak overnight.
In a large dutch oven heat half of the olive oil over medium heat. Saute the onions for several minutes until they begin to soften. Add garlic and bell pepper and continue to saute for about two minutes, adding extra olive oil as needed to prevent sticking.
Rinse the black beans and add to the vegetables in the pot, adding water to an inch above the beans.
Stir in remaining olive oil, bay leaves, vinegar and Cuban spice. Add salt and pepper to taste.
Add ham hocks, ensuring that they're covered by the liquid.
Bring to a boil, skimming and discarding any foam or scum that rises to the top.
Lower heat to a simmer, or place dutch oven in a 300 degree oven.
After about 2 hours check the soup, stirring and adding liquid as necessary. Return to low heat or oven for 3 hours.
After about 3 hours remove ham hocks and pull any meat off the bone that hasn't already fallen off. Discard bones.
Serve soup with a dollop of sour cream, avocado, cilantro and diced bell pepper.
© 2023 World Spice Merchants https://www.worldspice.com