Cuban Collard Greens
When done right, collard greens are the definition of southern comfort food. Collard has a mellow, earthy taste, and its thick, hardy texture makes a great vehicle for seasoning that stands up well when cooked. For anyone who has eaten flavorless, overcooked collards throughout their life, these versatile greens are worth a second look.
This recipe is a year-round side dish that will complement a backyard cookout or a holiday dinner equally well. The ham hock pairs up with our Cuban Spice blend to deliver a wallop of umami flavor. Featuring garlic, cumin, orange and oregano, this blend combines bright and savory spices for a rich and satisfying flavor.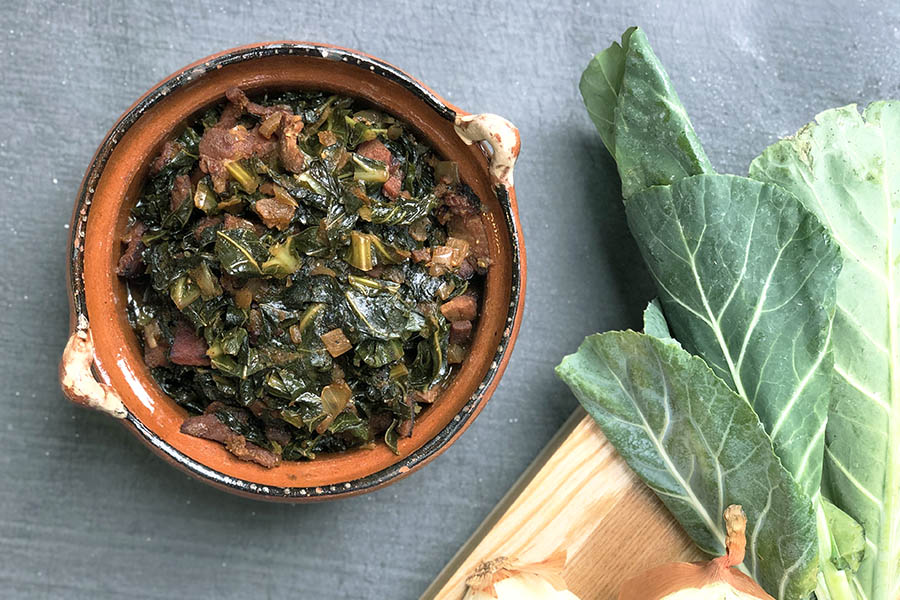 Ingredients
1 tablespoon olive oil
1/2 cup ham, diced
1 ham hock
1/2 onion, small diced
2 teaspoons garlic, minced
2 lb collard greens, stemmed and cut into two inch pieces
1 tablespoon apple cider vinegar
1 tablespoon brown sugar
2 teaspoons Kosher salt
2 tablespoons Cuban Spice, ground
3 cups chicken stock
Instructions
On medium heat, add the oil to a skillet. Once the oil is hot, add the diced ham and cook until the ham starts to get browned. Stir in the ham hock, onion, garlic and cook until the onions and garlic are translucent.
Add half the collards and saute until limp, about five minutes.
Add the remaining collards along with the vinegar, brown sugar, salt, Cuban spice and chicken stock. Cover collards and reduce to medium-low and simmer for 20-30 minutes or until tender. Remove the ham hock from the pot, then pull off the meat and mix the meat in with the collards.
© 2023 World Spice Merchants https://www.worldspice.com