Cuban Picadillo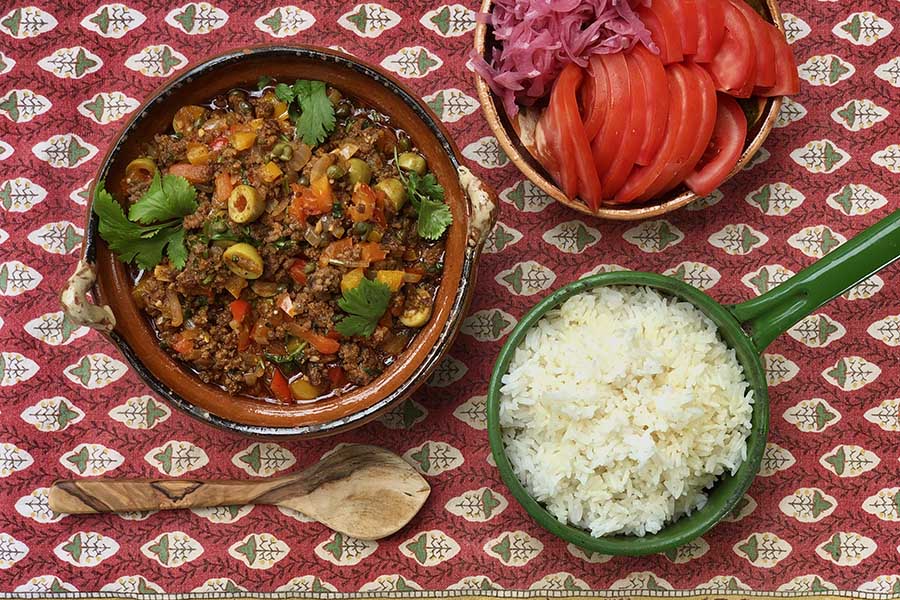 Picadillo is a Latin comfort food with many regional variations. Every country has their own version, but ground meat, olives, capers, and raisins are all staples of the dish. Picadillo can be served as a standalone, stuffed inside savory pastries, or even be used as filling for tacos.
We used our Cuban Spice as the principal seasoning in this picadillo, alongside white wine and olive oil in the traditional style. Cuban cuisine typically sees the dish served alongside black beans and rice. This recipe keeps the overall heat level low, so the dish is family friendly while still full of bold flavors.

Ingredients
1 lb lean ground beef
2 tablespoons Cuban Spice, ground
1 medium onion, small diced
1 cup red bell pepper, small diced
1 cup orange bell pepper, small diced
4 cloves garlic, minced
1/4 cup golden raisins
1/2 tablespoon Kosher salt
2 tablespoons capers
1/2 cup whole pimento-stuffed green olives, sliced
1 8 oz can tomato sauce
1 cup dry white wine
1/2 cup cilantro leaves
Instructions
In a medium-sized skillet on medium heat, brown the meat, then drain excess fat.
Next add the Cuban Spice to the meat and saute until fragrant.
Add onion, peppers, garlic to the meat and cook until translucent.
Add raisins, capers, salt, and olives. Give mixture a stir, then add white wine and tomato sauce, cooking until reduced.
Finish picadillo with cilantro right before serving.
Serving Suggestion: Alongside white Spanish rice, fresh tomatoes and pickled onions.
© 2023 World Spice Merchants https://www.worldspice.com