El Greco Pommes Anna
In an inspired moment of Western European fusion, we seasoned this classic French dish with our El Greco seasoning. Garden herbs like basil and oregano alongside sumac, lemon peel and garlic give this blend a bright Mediterranean flavor.
The resulting potatoes are beautiful and fragrant, with the sunny aroma of a Greek kitchen. With the perfect flip, the crispy buttery layers of the pommes are a sight to behold. Pommes Anna are one of the few times where the side dish might outshine the main course! It's a dish that's tasty any time of day and can be made ahead of time to easily reheat for guests.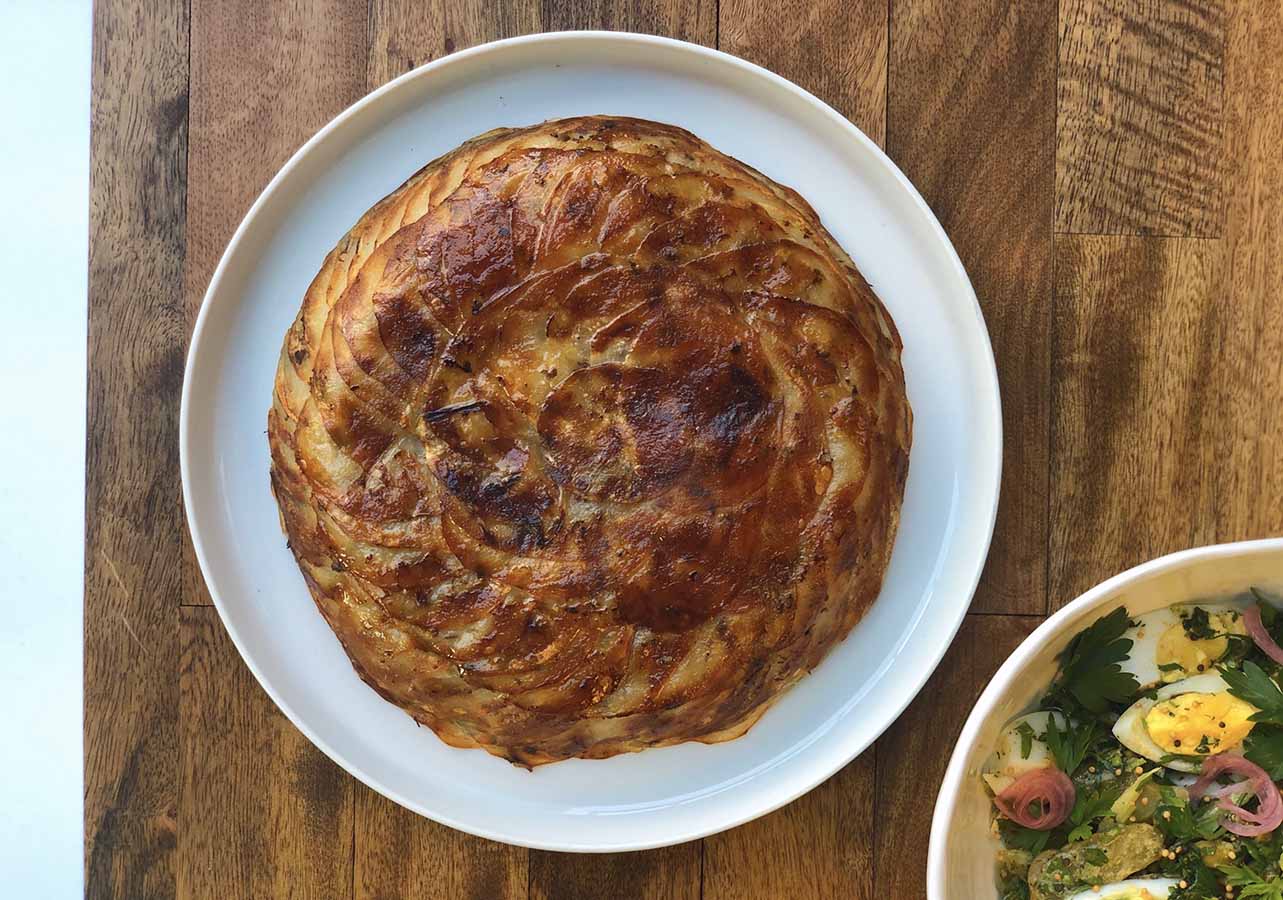 Instructions
Preheat oven to 350 degrees. In a small bowl, mix the 6 tablespoons melted butter, El Greco, salt and pepper.
Coat a non-stick 8-inch skillet, or a well-seasoned cast iron pan, with butter.
Using a mandoline, thinly slice the potatoes into circles to almost paper thin. Arrange the potato slices in an overlapping circle at the bottom of the skillet, working quickly so that the potatoes don't oxidize.
Brush each layer with the butter and seasoning mixture. Keep repeating until all the potatoes have been added to the pan, and the butter and seasoning mixture is used.
Cover the potatoes with a lid and set on medium-high heat on the stove top for 4-5 minutes. You want the edges to barely start to get color and pull away.
Put the pan with the pommes in the oven and bake for 30-40 minutes, or until the center of the dish is easy to pierce through with a knife.
Remove potatoes from the oven and let rest for 3 minutes. The potatoes should naturally pull away from the edges of the pan, but to guarantee an easy release, run a spatula along the edges of the pan.
Next, put a plate larger than the pan on top of the pommes. Using a towel to protect you from the heat, flip the pan over quickly onto the plate.
Cut into wedges and serve warm.
© 2023 World Spice Merchants https://www.worldspice.com