Grandma's Lemon Wedges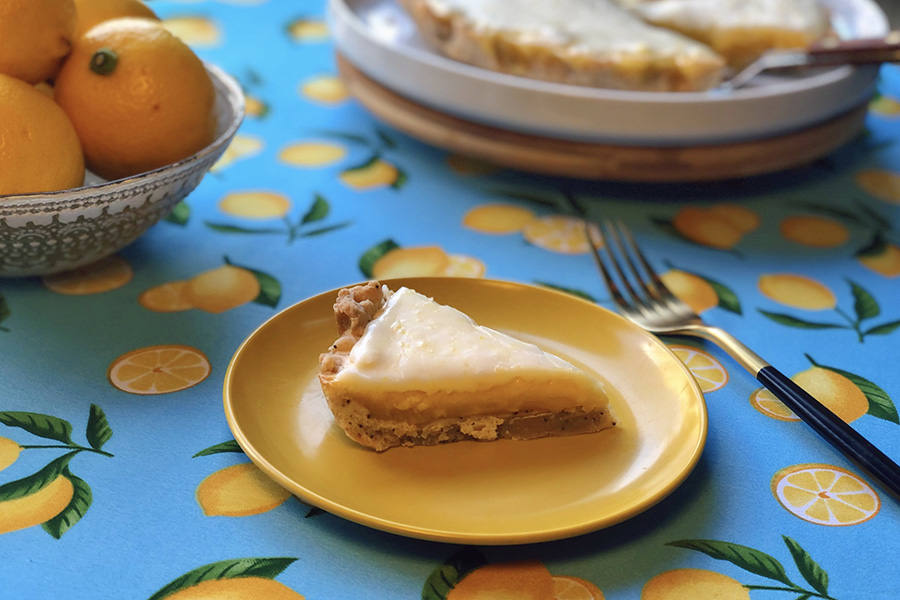 You can never have too many lemon bar recipes, but this one is the only one that you need. This was my Grandma's recipe, and the stains on the recipe card are a testament to how often it's been made. Most lemon bars are made too sweet to cut the tartness of the lemon, but the addition of the glaze in this recipe balances out the sweet and tart lemon flavor perfectly. Sometimes I add poppy seeds to the shortbread crust or sprinkle sumac on top just for fun. These can be made in a square pan and cut into bars, but look pretty cut in wedges too. Make these and I'm sure that they will disappear as quickly as they always did in our home.

Ingredients
Shortbread Crust:
1 cup all-purpose flour
1/2 cup butter
1/4 cup powdered sugar
1/2 teaspoon baking powder
1 teaspoon poppy seeds
Filling:
2 eggs
3 tablespoons fresh lemon juice (about 2 lemons - you should have enough left over for the glaze)
zest of 1 lemon
1 cup white sugar
2 tablespoons all-purpose flour
Glaze:
1-1/2 cup powdered sugar, sifted
1 tablespoon butter, softened
1 teaspoon fresh lemon juice
zest of 1 lemon
1 tablespoon milk
Instructions
Shortbread Crust
Preheat oven to 350 degrees. Cream the butter and sugar together. Add the flour and poppy seeds, and mix well. Line either an 8 x 8 pan or a round cake pan with parchment paper. Add the crust mixture into the pan and pat down so the bottom of the pan is evenly covered. Bake for 20 minutes, or until golden brown.
Filling:
Combine all, mix well and pour over shortbread crust. Bake for 20 minutes, or until lightly golden. When done, remove from oven and let cool before pouring on the glaze.
Glaze:
Mix well and pour over cooled lemon bar, making sure to completely cover it. When glaze is set, cut into wedges and enjoy!
Notes
Taste the fresh lemon juice. If it doesn't taste tart enough, add 1/4 teaspoon lemon crystal. Tartness in lemons will vary - you want the tart flavor to balance out the sweetness. These can also be garnished with a sprinkle of sumac, for a little pop of color and more tartness.
© 2021 World Spice Merchants https://www.worldspice.com