Israeli Zahtar Flatbread
After a long day of working, I just want something quick and easy for dinner, but it still has to be delicious… And if it's at least somewhat healthy-ish, all the better! I don't know about you, but I can always eat pizza, in pretty much any form. I can always find ready-made pizza dough at the store, which means my homemade pizzas or flatbreads can be made without any fuss.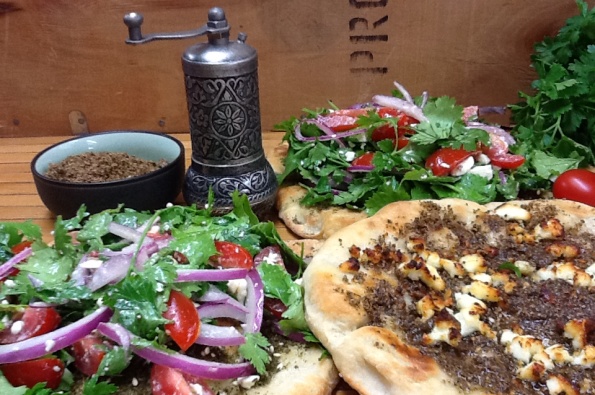 There's also something incredibly soothing about rolling out pizza dough. The smell of the yeast takes me back to childhood when I would help my mother make bread. After I roll out the dough, brush it with olive oil, then top it with spices.
I'll rifle around in my fridge  or the cupboards of my small kitchen for odds and ends of goodies that I can either put on the dough before I bake it, or after it comes out of the oven. It all depends on my mood at the moment. Israeli Zahtar is my favorite spice to use for this, but I also love Dukka. The smell of the flatbread baking is heavenly, and always seems to perk me up a little bit. It's a perfect end to a hectic day.

Ingredients
1 store-bought pizza dough
1/2 cup Israeli Zahtar
1/2 bunch fresh parsley, leaves picked off
1/2 bunch fresh cilantro, leaves picked off
1 pint heirloom cherry tomatoes, quartered (or 2 or 3 whole tomatoes)
1/3 cup feta, crumbled
1/2 small red onion, thinly sliced
1 small lemon, juiced
olive oil (for brushing, drizzling and salad)
Instructions
Heat oven to 425 degrees. Leave dough out for 20 - 30 minutes to 'rest' at room temperature if instructed on packaging.
Divide into 3 portions and roll them out thinly into long ovals. Brush a cookie sheet with the olive oil and place the dough on it, without any of the sides touching.
Brush the dough with olive oil and sprinkle on the Israeli Zahtar. Bake in the oven until the crust is golden brown cooked through. Since there is only oil and spice on the dough, keep an eye on it so that it doesn't burn.
While the flatbread is baking, you can make the salad that will go on top of it. Combine the rest of the ingredients (except for the lemon juice and olive oil), mixing well.
When the flatbread is done, remove from oven. Add the lemon juice and 2 Tbl. olive oil to the salad and toss to coat. Evenly top the flatbread with the salad and serve. (Cutting the flatbread before topping the salad will save mess.)
Feel free to drizzle more olive oil on top before you serve it. Or anything else you choose!
© 2021 World Spice Merchants https://www.worldspice.com