Kale Tabbouleh with Ras el Hanout Dressing
This festive salad is perfect holiday fare. At a time when greens can often be over- shadowed by sweets, put this on the table and it will become everyone's first choice instead. The bright citrus vinaigrette helps tenderize the kale, and the pomegranate seeds add a sunny pop of flavor.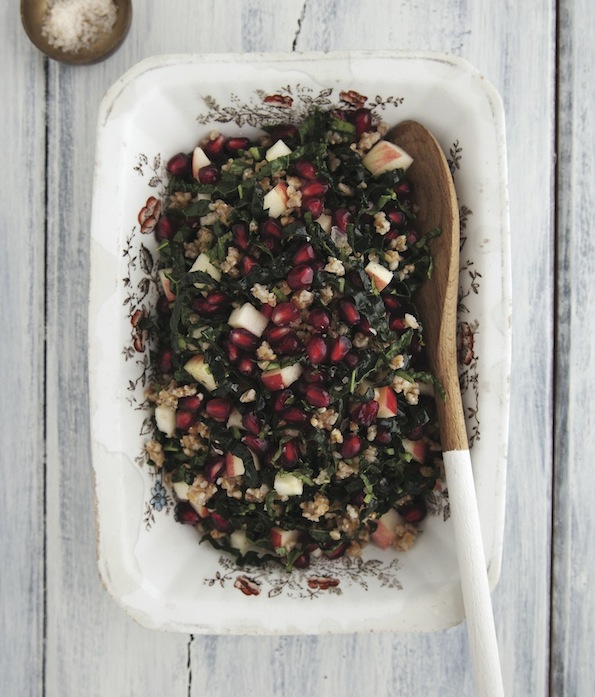 Ingredients
For the bulgur:
1 cup bulgur wheat or quinoa
For the dressing:
3 tablespoons freshly squeezed lemon juice
3 tablespoons orange juice
2 teaspoons honey
2 tablespoons red wine vinegar
1 shallot, minced
2 teaspoons ground Ras el Hanout
1 teaspoon kosher salt
1/3 cup extra-virgin olive or walnut oil
For the salad:
1 bunch Tuscan (lacinato) kale, large ribs removed, leaves finely chopped
Seeds from 1 pomegranate
1 apple, cut into ½-inch cubes
¼ cup finely chopped fresh parsley
3 tablespoons thinly sliced fresh mint leaves
3 tablespoons thinly sliced fresh basil leaves
½ teaspoon fine sea salt
Freshly ground black pepper
Instructions
Cook the bulgur or quinoa according to package instructions. Set aside to cool.
To make the dressing, whisk together the lemon juice, orange juice, honey, vinegar, shallot, ras el hanout, and salt in a small bowl. Slowly whisk in the oil.
In a large bowl, combine the kale and dressing and toss to coat. Add the bulgur, pomegranate seeds, apple, parsley, mint, basil, salt, and pepper and toss again. Let sit for 10 minutes to allow the flavors to meld and then serve.
© 2023 World Spice Merchants https://www.worldspice.com
*(c)2014 By Amanda Bevill and Julie Kramis Hearne. All rights reserved. Excerpted from World Spice at Home: New Flavors for 75 Favorite Dishes by permission of Sasquatch Books.