Kofte Spice Stuffed Zucchini
Zucchini season has officially begun in the Pacific Northwest, and boy is it a successful one this year. The markets are full of this fine summer squash and I was recently gifted a zucchini from the family garden which is about the size of my torso. I needed to find something delicious to do with my bounty, and stuffed zucchini was just the thing.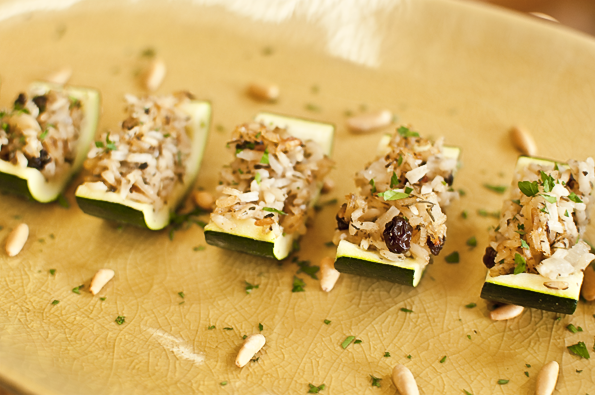 This Turkish influenced recipe looks and tastes impressive, but requires little effort to make aside from tossing a few things together and leaving it to cook. Of course since this is a Turkish recipe, my favorite spice blend to pair it with is Kofte Spice – the peppermint and savory are a refreshing addition on warm summer days. For a more complex filling, you can move slightly farther north in influence and use the Black Sea regional spice Khmeli Suneli. A filling dinner for three or a starter for 6, all you need is three medium sized zucchinis (or one monster one).
Ingredients
1 medium onion, finely chopped
1 tablespoon olive oil
2/3 cup short grain rice
2 tablespoons currants
1 tablespoon pine nuts
2 tablespoons chopped parsley
1 tablespoon Kofte Spice or Khmeli Suneli
3 tablespoons lemon juice
3 medium zucchini
1 ½ cups boiling water
1 ½ tablespoons sugar
Salt and pepper to taste
Instructions
Cook onions in olive oil until soft
Add pine nuts, currants, rice, and lemon juice
Add sugar, salt and pepper, 1 1/2 cups water, cover and cook until water is absorbed
Hollow out zucchini to make "boats"
Add 1 tablespoon Kofte Spice to rice
Fill zucchini with cooked rice and bake in oven at 350°F for 18 minutes
Garnish with chopped parsley and enjoy! You can also serve the zucchini is chilled with some plain yogurt.
© 2023 World Spice Merchants https://www.worldspice.com