Kofte Meatballs with Marash Yogurt Sauce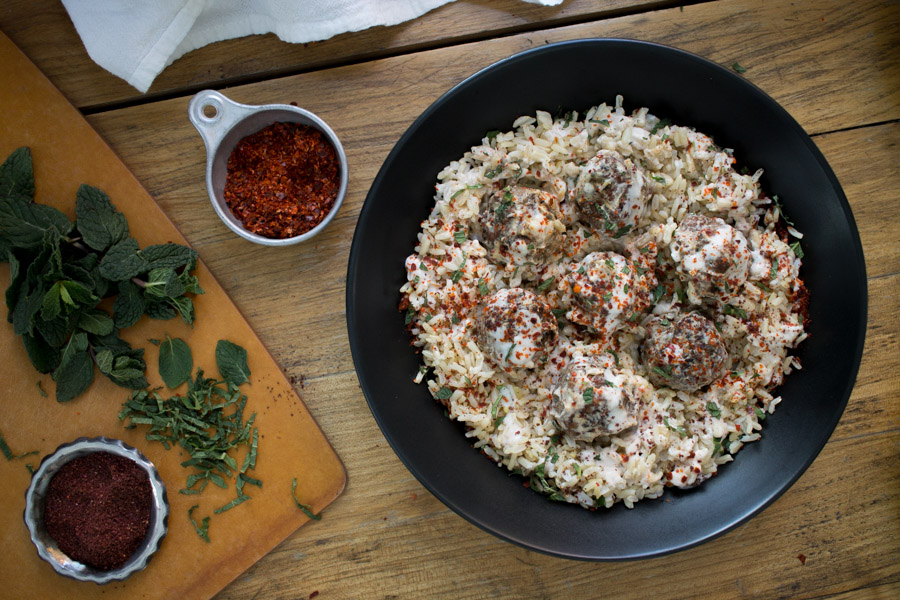 These Kofte Spiced lamb meatballs are a crowd pleaser, made more marvelous with Marash Chile Flakes and warm yogurt sauce. Sound exotic? It is! But they are easy to make and the seasonings have wide appeal. Serve them over your favorite grain pilaf or roll them out at your next cocktail party for a new take on everyones favorite hors d'oeurve.
Ingredients
2# ground lamb
2/3 cup breadcrumbs
2 teaspoons kosher salt
2 teaspoons Kofte Spice or Khmeli Suneli
3 teaspoons Marash Chile Flakes, divided
3 eggs
2 tablespoons extra-virgin olive oil
1 cup chicken broth
1 cup plain yogurt
1 tablespoon cornstarch dissolved in 2 tablespoons water
1/2 teaspoon sumac
3 tablespoons chopped mint
Instructions
Place the lamb in a large bowl and sprinkle the breadcrumbs, salt, Kofte or Khmeli Suneli and 1 teaspoon marash over the meat. In a smaller bowl gently beat 2 eggs. Using your hands, gently mix the dry ingredients into the meat. Then add the beaten eggs and continue mixing until everything is well combined. Refrigerate at least 30 minutes to allow the flavors to infuse into the meat.
Using wet hands, roll the mixture into balls about the size of a walnut and line them up on a sheet pan. The meatballs should be about 1 oz each.
Preheat the oven to 300 degrees and place an oven proof serving platter on the middle rack.
Add the olive oil to a large cast iron skillet over medium-high heat. Working in batches so as not to crowd the pan, cook the meatballs 7-9 minutes total, turning occasionally to brown on all sides. Remove from the pan, blot to remove excess oil, and transfer to the serving platter in the oven.
In a medium bowl, lightly beat the remaining egg. Stir in the yogurt and cornstarch mixture and set aside.
Remove the excess oil and any burned bits of meat from the skillet, then return the skillet to high heat. Add the chicken broth and 1 teaspoon marash. Bring to a boil and immediately reduce the heat to simmer. Slowly pour in the yogurt mixture, whisking to combine. Warm gently for 1-2 minutes allowing the sauce to thicken but do not boil.
Serve the meatballs in a deep bowl on a bed of long grain brown rice or other grain pilaf. Drizzle with plenty of yogurt sauce and garnish with a sprinkle of fresh mint, sumac and marash.
Notes
This recipe makes 40 meatballs so cook for a crowd or freeze some to save for quick weeknight dinners.
© 2023 World Spice Merchants https://www.worldspice.com
Adapted from David Tanis' recipe Spiced Lamb Meatballs with Yogurt and Herbs. Cooking lamb chops instead? Check out these recipes for lamb chops with Za'atar or Khmeli Suneli.