Khmeli Suneli Chicken Stroganoff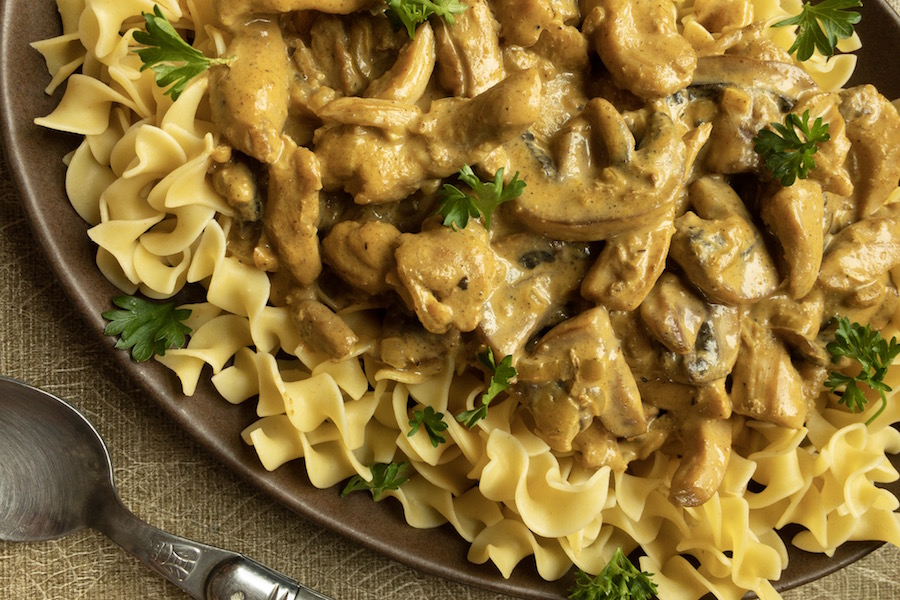 To be clear, the origins of this recipe lie in the Eastern European country of Georgia, not the southern American state or the revolutionary era in Great Britain. This small country lies nestled between Azerbaijan, Russia, Armenia, Turkey and the Black Sea. Accordingly, its cuisine has been influenced by both eastern and western cultures, and nowhere is this more apparent than in the distinctive spice blend, Khmeli Suneli. Traditionally used in meat, grain or bean dishes, we're using it here to help liven up a traditional Georgian dish of chicken and sour cream, which you may recognize as a kind of Russian Stroganoff. We're deepening the flavor by adding mushrooms and some additional Hungarian paprika, as well as a finishing touch of roasted walnut oil. Served over egg noodles, mashed potatoes or even cauliflower mash, you'll find this uniquely flavored dish a welcome addition to your recipe collection.
Ingredients
4 tablespoons vegetable oil, divided
1 medium yellow onion
2-3 cloves garlic, minced
8 oz. mushrooms, sliced
1-1/2 lb. chicken thighs, trimmed and cut into 1/2" wide strips
2 tablespoons flour
1- 14.5 oz can low-sodium chicken broth
¼ teaspoon alderwood smoked salt
1 tablespoon Khmeli Suneli
1 teaspoon paprika
¼ teaspoon black pepper
½ cup sour cream, full-fat
1 tablespoon roasted walnut oil
8 oz. wide egg noodles, cooked
Instructions
Peel onion, then cut in half horizontally. With the cut side down, slice each half into 1/2" wide strips.
In a large skillet heat 3 tablespoons vegetable oil over medium-low heat. Add sliced onion and cook till softened, about 4 minutes. Add garlic, stirring occasionally for 30 seconds, then stir in mushrooms. Continue to cook till mushrooms are shrunken down and golden in color, about 8 minutes, stirring occasionally. Remove mixture to a bowl and set aside.
Add the remaining 1 tablespoon vegetable oil to the pan and raise heat to medium-high. Once oil is hot, add chicken and cook till chicken is browned and cooked through, about 6 minutes, stirring frequently. Add alderwood smoked salt, Khmeli Suneli, paprika and black pepper and stir well, cooking for 30 seconds. Stir in flour, tossing so all ingredients are covered well, then add chicken broth. Be sure to scrape the bottom of pan well, to loosen any browned bits.
Stir in reserved vegetables, cover loosely, and simmer on low for 20 minutes, stirring occasionally, especially near the end, to prevent sticking. Remove from heat and stir in sour cream and roasted walnut oil. Serve over egg noodles with another drizzle of walnut oil.
© 2023 World Spice Merchants https://www.worldspice.com
Recipe adapted from Katya @ littlebroken.com
Note: We like the La Tourangelle brand of roasted walnut oil. You can find the round metal can at most  grocery stores in the cooking oil section.