Georgian Potato Pancakes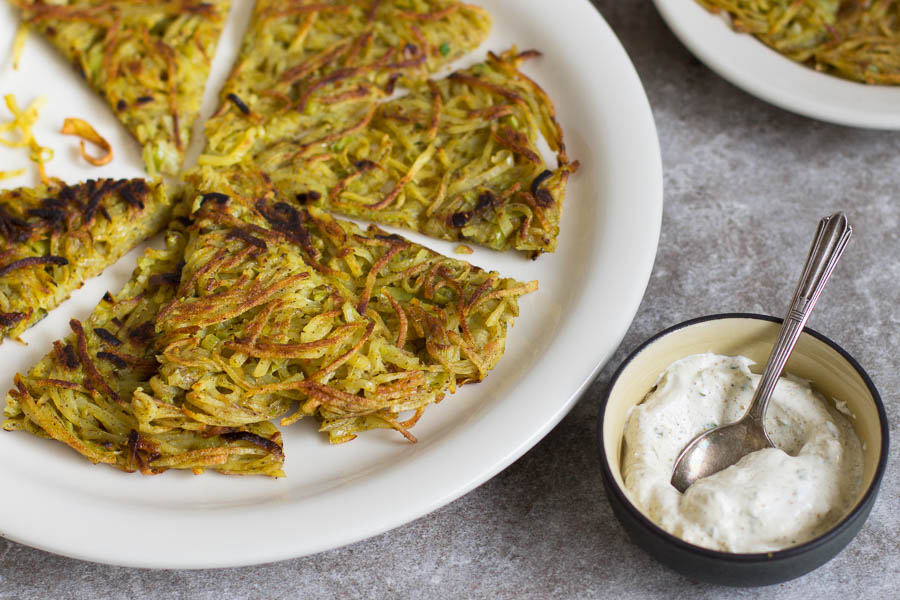 Potato pancakes come in many forms but all need embellishment of some kind, right? They have to be a vehicle for something, and in this case it's Khmeli Suneli, a traditional Georgian spice blend. With a tapestry of unique flavor unlike anything you'll find this side of the Black Sea, the flavors of fenugreek seed and leaf are mixed with herbs and spices from east and west. We've added leeks to the pancake as well and the flavor is outstanding. The crispy crunch on the outside of the pancake garnished with a little sour cream makes a lovely appetizer or side dish alongside roasted meats.
Ingredients
1 pound Yukon gold potatoes
2 cups sliced leek
1 egg, slightly beaten
1 tablespoon + 1 teaspoon Khmeli Suneli
1 teaspoon kosher salt
1/4 cup flour
2 tablespoons oil, for frying
1 cup sour cream
Instructions
Peel the potatoes and shred them on a mandoline or grater. Place the shredded potatoes in a large bowl and rinse under cool running water to remove excess starch until the water runs clear, then drain and squeeze out the excess moisture.
In a large bowl, combine the potatoes, leeks and egg. Then sprinkle on the flour, 1 tablespoon Khmeli Sunel and salt and stir to combine.
Preheat a large, non-stick saute pan over medium heat. Add 1 cup of the potato mixture to the pan and flatten into a pancake, approximately 1/2" thick. Cook 3-4 minutes until the pancake begins to solidify and turn golden. Carefully flip and allow the second side to firm up as well, cooking 3-4 minutes more.
Carefully slide the pancake onto a board and and allow to cool slightly. Cut into wedges and keep warm until the remaining pancakes are cooked.
Stir the remaining 1 teaspoon Khmeli Suneli into the sour cream and serve alongside warm pancakes.
© 2023 World Spice Merchants https://www.worldspice.com