Bengali Five Spice Roasted Chicken
This dish was featured on the cover of Sunset Magazine's October 2010 issue featuring one-dish dinners. It was a great issue — not just because they lauded World Spice Merchants as their "holy grail for spices" — and this is a great recipe. Enjoy!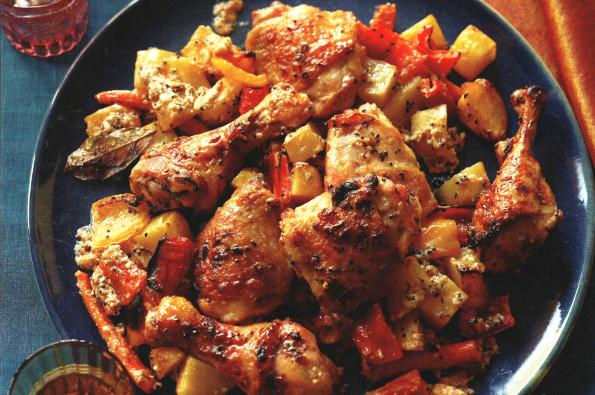 Ingredients
2-1/2 tablespoons vegetable oil
2 tablespoons Bengali Five Spice
2 dried Turkish bay leaves
2-1/2 tablespoons grated fresh ginger
2-1/2 tablespoons minced fresh garlic
2-1/2 tablespoons ground Indian coriander
1-1/2 teaspoons kosher salt
1-1/4 cups plain whole-milk yogurt mixed with 1-1/2 tsp. flour
4 each bone-in chicken thighs and drumsticks (separated; 2 lbs. total if you have a preference for one over the other)
1 red bell pepper, cored and coarsely chopped
1 yellow bell pepper, cored and cut into chunks
2 large carrots, quartered lengthwise then cut into 3" pieces
1 lb. Yukon Gold potatoes, peeled and cut into chunks (defer if marinating chicken and other vegetables overnight)
Instructions
Combine bay leaves, ginger and garlic and have at the ready (they do not need to be mixed). Heat oil over small-to-medium frying pan or skillet over medium heat. Add Panch Phoron, and stir until seeds begin to pop, about 30 seconds. Add bay leaves, ginger and garlic all at once, and stir until ginger softens, about 3 minutes. Remove skillet from heat, and stir in coriander and salt. Let sit until fragrant, about 30 seconds. Add yogurt and flour mixture, stir to loosed browned bits, and let marinade cool.
Combine marinade with chicken, bell peppers and carrots, stir or toss to coat, and cover (you can use a dish with a tightly fitting lid or a resealable plastic bag). Chill at least 2 hours or overnight.
Preheat oven to 475°F with rack set in upper third of oven. Arrange potatoes in single layer in large rimmed oven dish or on rimmed baking sheet. Turn out marinated ingredients over potatoes, mix to coat, and pat to single layer. Bake until browned, about 40 to 45 minutes, turning with wide spatula every 15 or 20 minutes and ending with chicken skin-side up.
Notes
Recipe and photo from Sunset Magazine, October 2010.
© 2022 World Spice Merchants https://www.worldspice.com