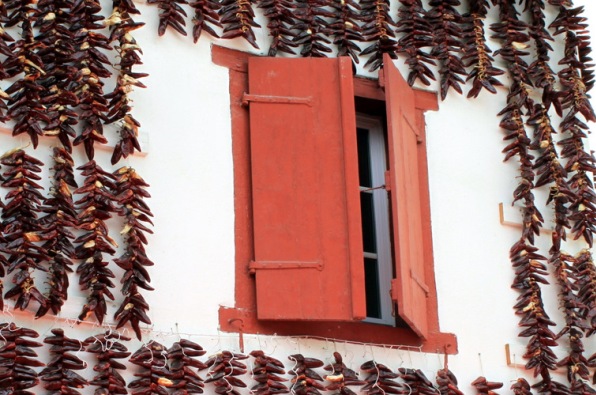 Spice merchant Christmas is coming a little late this year, but it is well worth the wait! The current crop of Piment d'Espelette has arrived at our doorstep, ready to transform our soups, stews, rice pilafs, and most especially egg and fish dishes with its mild heat, and fruity, almost tomato-like flavor. A single sampling of this precious spice leaves no question as to why we are so excited by its arrival!
Piment d'Espelette (pepper of Espelette) originates in the area that joins the southwestern-most corner of France with northeastern Spain, a region historically known as Basque country. Piment d' Espelette bears the distinction of being the only spice recognized by the AOC, or Appellation d'Origine Contrôlée. The AOC guarantees that products which bear its seal will be produced in traditional manners, and originate only from their traditional region (Champagne is a classic example). Therefore, only the superior pepper grown in the ten, tiny approved Basque villages may be labeled "Piment d'Espelette."
Visits to this picturesque region in late summer and early fall yield visions of festoons of peppers, drying against white stucco houses as they have for centuries. Each October, the end of the Piment d'Espelette harvest is marked by a vibrant festival, complete with parade, that draws upwards of 20,000 tourists. There, the peppers are sold fresh, pickled, or dried and ground, as we carry it. At only 4,000 on the Scoville scale (as compared to 40,000 for Indian Cayenne), Piment d'Espelette's mild flavor is the cornerstone of the traditional Basque stew piperade, a piquant concoction of peppers, tomatoes, onions, and on occasion, ham and eggs.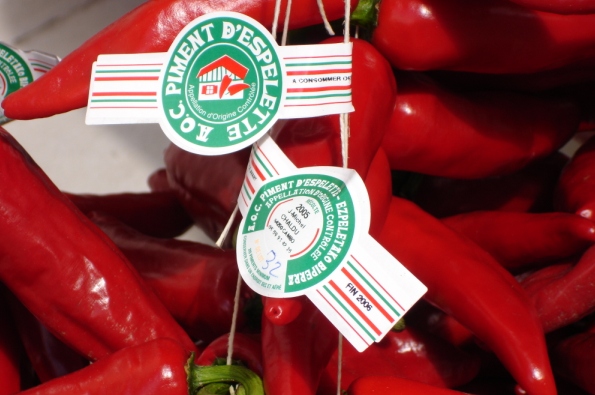 In keeping with Basque tradition, we consume our Piment d'Espelette seasonally; making way for the new crop when it comes. The Basque have another tradition worth imitating- that of the txoko, or gastronomical society. Generations of Basques have gotten together to cook, sing, and experiment with food in thousands of private clubs.  Pick up some of the freshest and most flavorful flakes of Piment d'Espelette available in the United States by the ounce, or sweetly packaged in a 1/2 ounce jar for your next txoko meeting of your foodie friends. On egin!