Shawarma Chicken Salad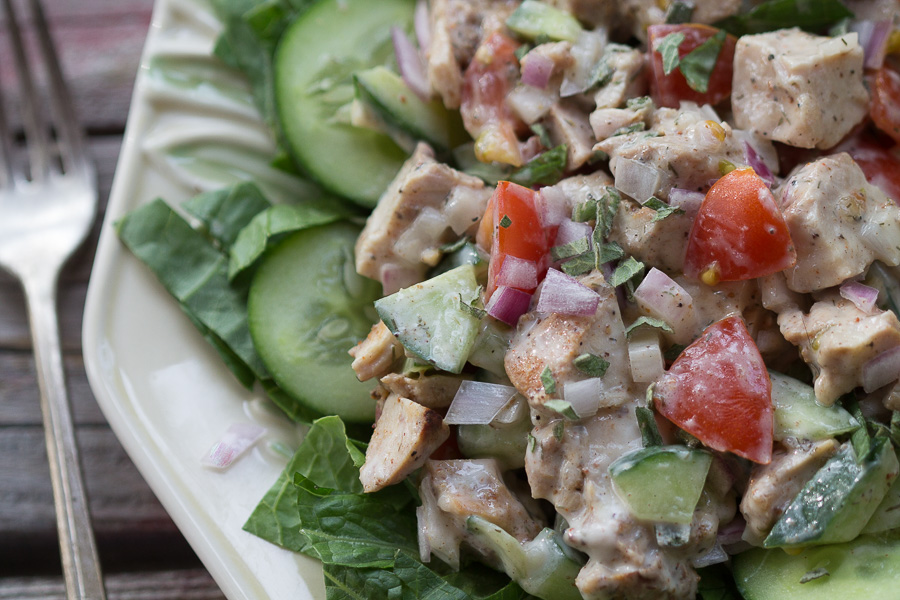 Shawarma Chicken Salad brings exotic taste to a familiar recipe. Our Shawarma Spice boasts powerful flavor that mimics spit roasted goodness at its best, and grilled chicken is a delicious way to enjoy it. We've been grilling so much I found myself with leftovers and this happy accident was born. The shawarma chicken salad combines all the great flavors of a  sandwich, but without the bread. For this salad we chose to keep it light, but add hot sauce and olives if you like those, or a side car of hummus to round out the meal. Dill Pollen makes a great garnish!
Ingredients
1/2 cup olive oil
1/4 cup lemon juice
2-4 cloves garlic, minced
2 tablespoons Shawarma Spice
1 teaspoon kosher salt
2 lb boneless skinless chicken thighs
1/2 cup tzatziki sauce
1/2 cup minced purple onion
1 cup diced fresh tomatoes
1 cup diced cucumber
fresh dill, basil or cilantro for garnish
1 head chopped romaine
Instructions
In a gallon ziplock bag, combine the olive oil, lemon juice, garlic, Shawarma Spice and salt. Add the chicken thighs and massage the outside of the bag to move them around until they are well coated with marinade. Refrigerate and allow to marinate 1-2 hours or overnight.
Preheat the grill to 375 degrees and cook with the lid down, turning every 10 minutes or so, until the internal temperature reaches 165 degrees, about 30 minutes total.
Allow the chicken to cool slightly and chop into bite sized pieces. Combine the chicken, and juices from the board, with the tzatziki, onion, tomatoes and cucumber in a large bowl.
Serve atop chopped romaine, with a garnish of herbs.
© 2023 World Spice Merchants https://www.worldspice.com