Tzatziki with Dill Pollen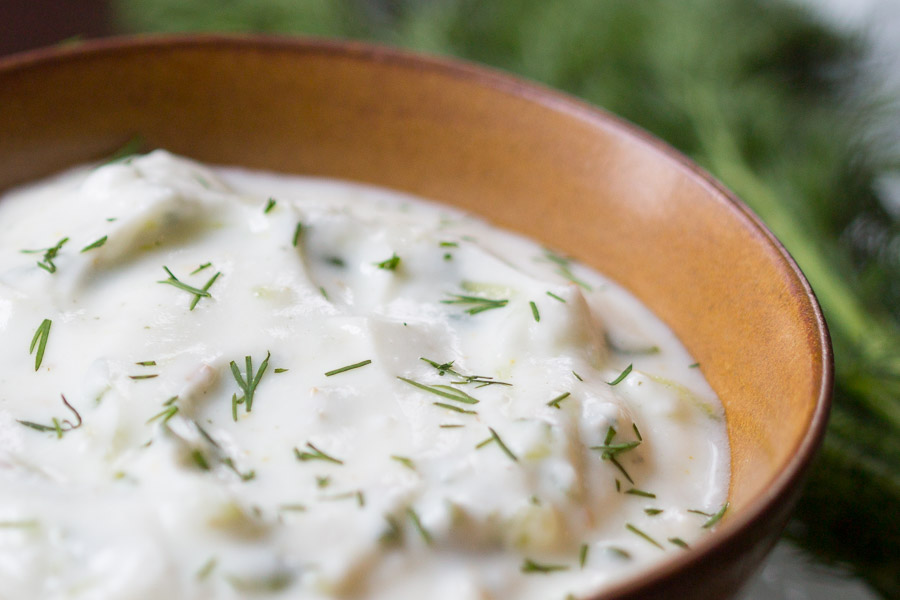 I love tzatziki, it has always been a favorite. Whether as a dip for crunchy vegetables or counterpoint to spicy grilled meats, the combination brings together creamy goodness from Greek yogurt and cooling cucumber alongside a puckery pow from lemon and garlic for a delightful contrast. But it wouldn't be tzatziki without the dill, and we've punched up the flavor here with the addition of dill pollen and our premium garlic salt.
This version of the classic dip & spread was born, as so many wonderful recipes are, when I was short on ingredients and didn't have fresh dill or garlic in the house. I subbed in the dill pollen and garlic salt in a pinch and voila! The tzatziki bloomed with loads of intensity. Now I include them every time, using both fresh dill and the pollen, fresh garlic and the salt. It creates delightful dance party on the palate. Enjoy!
Ingredients
1 English cucumber, seeded and grated, about 1 1/2 cups
2 cups Greek yogurt
1 clove garlic
1 teaspoon garlic salt
1/2 teaspoon dill pollen
2 teaspoons fresh dill weed, finely chopped
2 teaspoons lemon juice
1 tablespon extra virgin olive oil
freshly ground black pepper
Instructions
Place the grated cucumber in a strainer and allow to wilt for about 30 minutes. Then squeeze the remaining water from the cucumber using a paper towel.
In a medium bowl, combine the cucumber and all the remaining ingredients. Stir well to combine.
The dip can be served immediately but flavors in this dip develop nicely over time so make ahead if you can!
© 2021 World Spice Merchants https://www.worldspice.com