Summer Squash Soup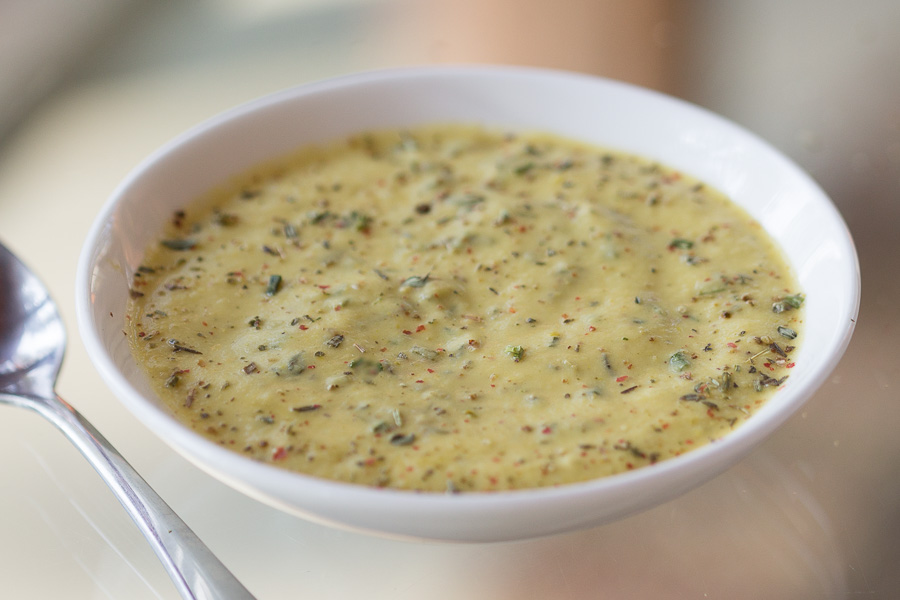 Summer squash soup? What a revelation! This soup is light and lemony, with a delightful range of flavors from our Emerald City Seasoning. Lemon thyme and chives are paired with pink and green  peppercorn for a mild seasoning that allows the yellow squash to shine through. A quick and easy cook time yields this beautiful dish that is very refreshing on a hot summer day. You can serve it lightly chilled or gently warmed alongside other summer favorites.
Ingredients
2 tablespoons olive oil
1 large sweet yellow onion, chopped
8 cups yellow summer squash, chopped
1 tablespoon white wine
1 teaspoon kosher salt
1 tablespoon + 1 teaspoon Emerald City Seasoning, divided
2 cups vegetable broth
Zest from 1 lemon
Instructions
In a large soup pot or Dutch oven, sauté the onion in oil over medium heat until translucent.
Add the squash and continue cooking, stirring frequently, until the squash is just fork tender, about 5 minutes.
Deglaze the pan with the white wine and then sprinkle the salt and Emerald City Seasoning over the vegetables. Stir to coat. Turn off the heat and cover the pot, allowing the squash to steam with the seasoning for 2-3 minutes.
Add the vegetable broth to the pot. Working in batches, transfer the soup to a blender and pureé until smooth. Return the soup to the pot and add lemon zest.
Warm gently and serve with additional garnish of Emerald City Seasoning.
© 2023 World Spice Merchants https://www.worldspice.com
Tried the Summer Squash Soup, and still need more soup in your life? Check out these recipes for African Peanut Soup or Pomegranate Ash.