Cinnamon Toast Spice Blondies
Sometimes we just want a little something sweet, but not too heavy. This updated version of a classic blondie fits the bill. Our Cinnamon Toast Spice, featuring Indonesian and Vietnamese cassia-cinnamons with true cinnamon, dark brown sugar and just a hint of nutmeg, perfectly complements the sweet potato base. These disappeared in moments at our last recipe test, and may need a "re-test" in my personal kitchen tonight. They've got sweet potatoes in them… so they're totally healthy, right?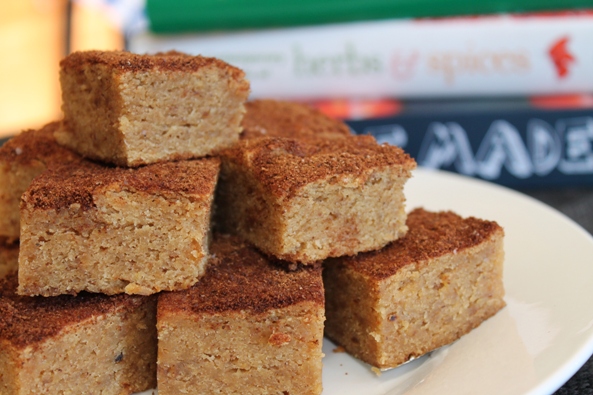 Ingredients
¾ cup mashed, cooked sweet potato
½ cup butter, melted
½ cup white sugar
½ cup dark brown sugar (packed)
¼ cup milk
1 tablespoon vanilla extract
½ teaspoon baking powder
½ teaspoon kosher salt
2 teaspoons Cinnamon Toast Spice
1¼ cup all-purpose flour
2 tablespoons Cinnamon Toast Spice, for top
Instructions
Preheat oven to 350 degrees.
Line an 8X8 baking pan with parchment paper. Lightly spray the bottom on the parchment-covered pan with a bit of nonstick spray.
In a large bowl, cream together melted butter, mashed sweet potato, sugar, brown sugar, milk and vanilla extract until smooth. Then add the baking powder, salt, 2 teaspoons of Cinnamon Toast Spice and flour to the mixture. Stir until combined, being careful not to overmix.
Pour batter into prepared pan. Gently spread batter to all corners with a rubber spatula. Sprinkle remaining 2 tablespoons of Cinnamon Toast Spice evenly over the batter.
Bake at 350 degrees until they are just set in the middle, about 25 - 30 minutes or until a toothpick comes out clean.
Cool completely before cutting into bars. These will keep in a covered container for a week.
© 2022 World Spice Merchants https://www.worldspice.com