Mayan Cocoa Pumpkin Bark
It's no secret that nuts and chocolate are a delicious pairing, and we never tire of finding new ways to combine them. In this pumpkin bark, toasted pumpkin seeds take center stage with dark chocolate, Mayan Cocoa and Cinnamon Toast Spice. The hints of allspice and chile are delightful alongside three varieties of cinnamon and the toasty crunch of the nuts. We chose to top the bark with sea salt, too. This treat comes together quickly and travels well, so make a round for afternoon snacks or your next gathering.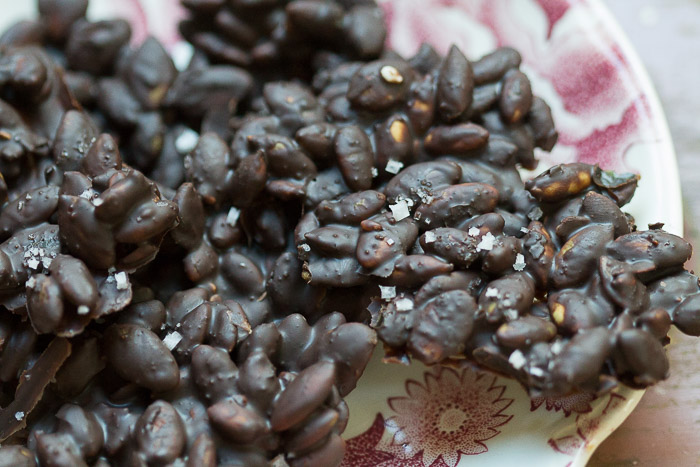 Ingredients
2 cups pumpkin seeds
1 teaspoon coconut oil
2 tablespoons Mayan Cocoa
1 tablespoon Cinnamon Toast Spice
2 dark chocolate bars 72% or darker, 3 oz. each
sprinkle of your favorite flaky sea salt (optional)
Instructions
Line a sheet pan with parchment and set aside.
In a large heavy skillet over medium-high heat, toast the pumpkin seeds in coconut oil until puffed and browned. Shake or stir frequently to ensure even toasting. Transfer to a medium bowl as soon as they are done to prevent over-toasting.
While the seeds are still warm, sprinkle them with the Mayan Cocoa and Cinnamon Toast Spice and stir to coat.
Break the chocolate bars into pieces and add them to the top of a double boiler, or a heat proof bowl over a pan of boiling water. Stir occasionally with a rubber spatula or wooden spoon until melted.
Remove the pan or bowl from heat and immediately add the pumpkin seeds. Stir to combine.
Spread the mixture on the parchment lined sheet pan into a single layer. Sprinkle with salt if desired and refrigerate until set, 15-30 minutes.
Break the bark into pieces for snacking and enjoy! Store in an airtight container in the refrigerator.
© 2021 World Spice Merchants https://www.worldspice.com
Our friends Laura and Cobe were visiting recently and brought the gift of some lovely dark Mexican chocolate bars. They inspired us with a link to this recipe: Mexican Chocolate Pumpkin Seeds from Happy Well Lifestyle.