Harissa Grilled Chicken Wings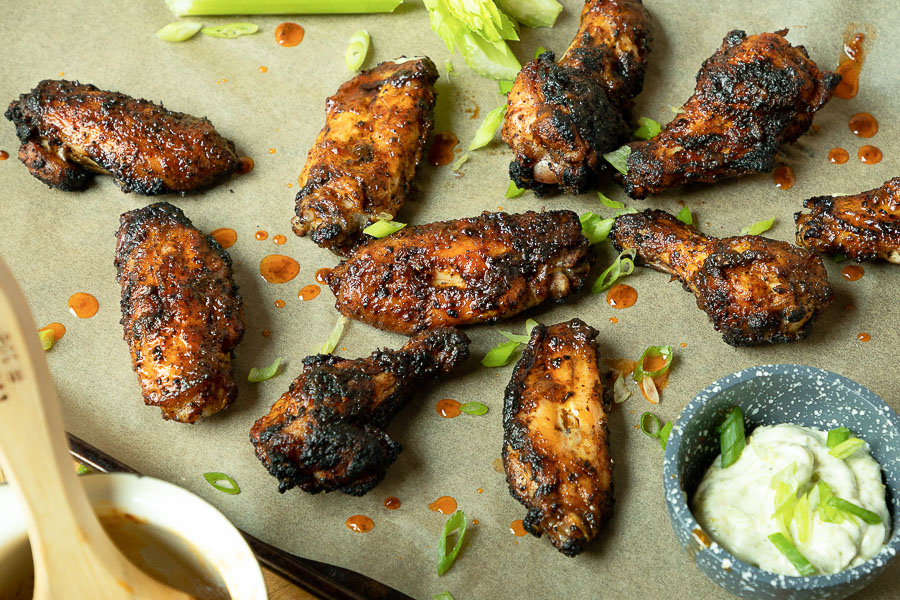 Chicken wings are a perfect game day dish, and our winning strategy scores with bold flavor! A quick toss in a Harissa dry rub followed with a saucy glaze combining butter, lemon paste, vinegar and honey brings the platter to the table without much fuss and they are absolutely delicious. The toasty exotic flavor of Harissa has mild smoky heat that goes well with all your favorite dipping sauces. Grilling gives that great char flavor and their moist, meaty texture is always a crowd pleaser. Buffalo and blue cheese have met their match!
Ingredients
3 pounds chicken wings
2 teaspoons kosher salt
2 tablespoons Harissa, divided
6 tablespoons unsalted butter, melted
1 tablespoon Moroccan Meyer Lemon Paste
1 tablespoon apple cider vinegar
1 tablespoon honey
Instructions
Place the chicken wings in a large bowl, and sprinkle on 1 tablespoon Harissa and the kosher salt. Toss to coat.
Preheat the grill to medium, about 350 degrees, and oil the grate. While the grill is coming to temperature, whisk together the remaining ingredients to make the sauce.
Arrange the wings on the center of the grate, in a crowded cluster. This will help them stay moist. Cook for 20 minutes total, turning the wings every 5 minutes.
Remove the wings to a clean bowl, and increase the heat to medium high. Pour the sauce over the wings and toss to coat. Return the wings to the grill to crisp the skin, cooking 1-2 minutes per side.
Serve with your favorite dipping sauce and crunchy crudite.
© 2023 World Spice Merchants https://www.worldspice.com