Hawaij Chicken Stew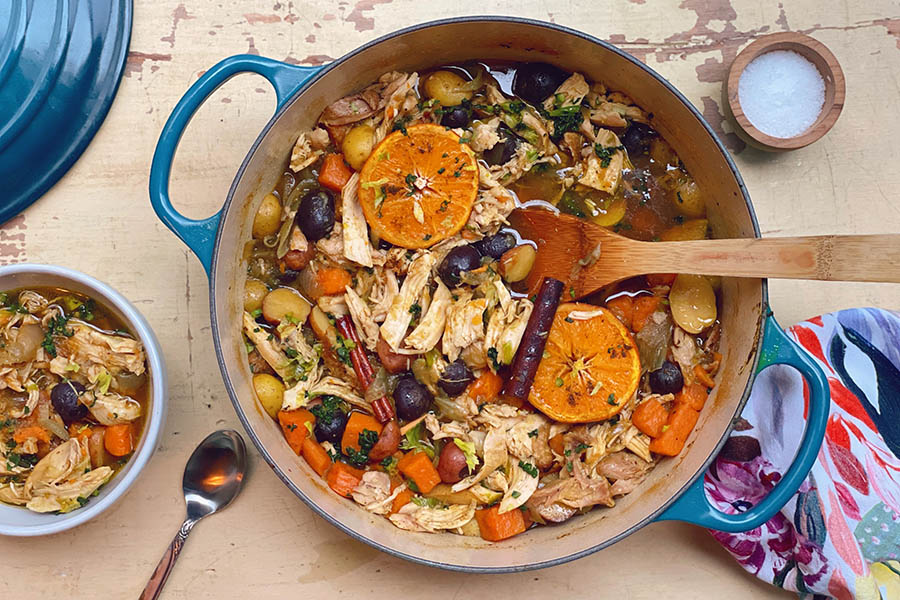 Often, we crave something warm and filling but don't want to feel so heavy afterwards. This is the stew we're looking for! It's light, but hearty with flavor and is the perfect cozy meal for a cold, grey winter day. It's seasoned with Hawaij, a Yemeni all-purpose seasoning made of black pepper, turmeric, cardamom, cumin, saffron and caraway. This blend is earthy and slightly dyes the broth to a pale, golden yellow. I found this stew made great left overs for an easy weeknight meal, too. Once reheated the broth will slightly thicken from the starchy potatoes and sweet potatoes. For added warmth we added our smoked cinnamon sticks and an orange, which added a touch of sweetness that'll perfume your bowl perfectly. 
Ingredients
2 tablespoons olive oil
2 bone-in, skin-on chicken breast
2 bone-in, skin-on chicken thighs
3 teaspoons Hawaij, ground
3 teaspoons kosher salt
2 red onion, julienned
1 pound baby multi-colored potatoes
1 pound sweet potatoes, large diced
2.5 cups chicken broth
1 orange, cut in half
1 tablespoon chopped fresh parsley
1 tablespoon chopped celery leaves
Instructions
Preheat the oven to 350 degrees.
Add the olive oil to a large oven-safe pan. Heat the oil over medium heat until sizzling.
Add the chicken to the pan skin side down. Brown for 2 minutes or until golden brown and flip over for another two minutes. Evenly sprinkle in the Hawaij, smoked cinnamon sticks and kosher salt. Add the onion and sauté until the onions start to caramelize for about 3-5 minutes.
Next add the potatoes, sweet potatoes and chicken stock to the pot. Stir, cover with a lid and bring to a simmer. Next, halve the 2 oranges and add into the broth until mostly submerged.
Place the pan into the oven and bake for 45 minutes. Remove the chicken from the pan and cool on a cutting board for 10 minutes, or until cool enough to handle. Using a fork, shred the chicken and remove and skin and bones, then discard. Add the shredded chicken back into the pan and bring to a simmer. Taste the stew and add salt, if needed. Finish the stew with fresh chopped parsley and celery for brightness. Serve immediately.
© 2023 World Spice Merchants https://www.worldspice.com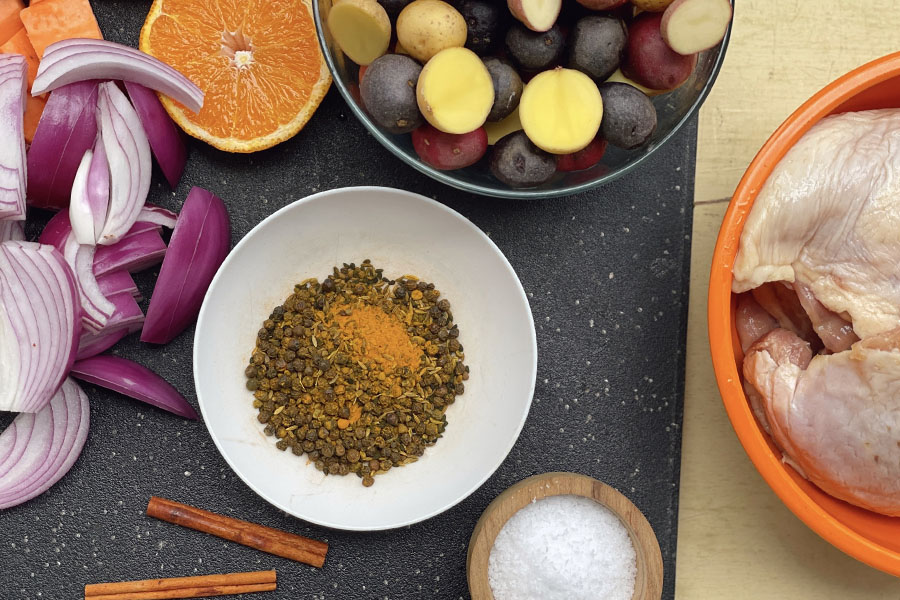 Hawaij is another one of those hidden gem spices. It's so versatile… It can be used as a rub, in a dip, to season rice, as a sauce seasoning — you name it! Check it out below.