Long Life Noodle Soup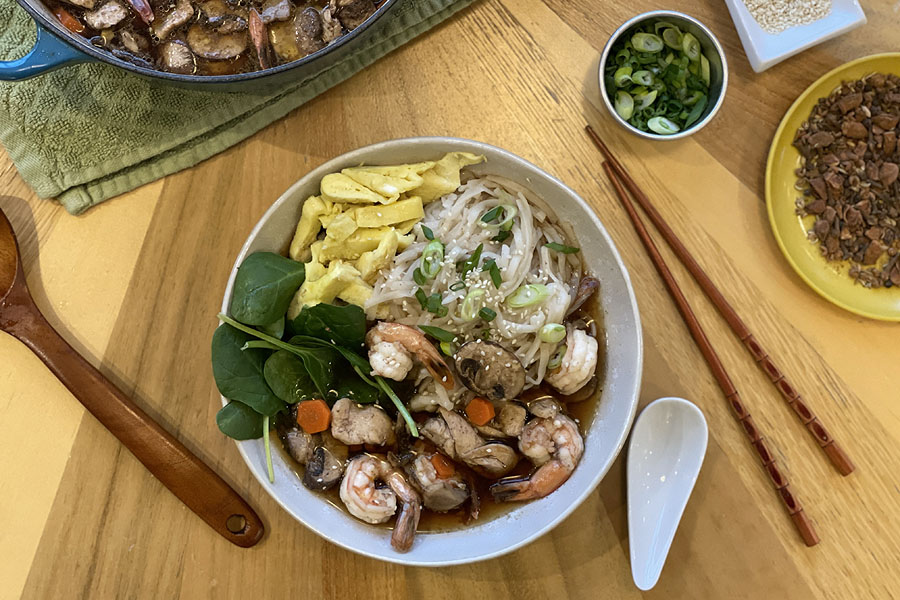 Inspired by the upcoming Lunar New Year, this 30 minute meal is a spicy aromatic explosion bound to leave you optimistic for whatever the future has in store. Traditionally, the noodles  eaten during lunar new year celebrations are made extra long to symbolize longevity; the longer the noodle the better! Our take on longevity noodles comes together in a flash and yields a bowl packed with the textures of mushrooms, spinach, shrimp, and chicken showcased by a warming broth rich in spices like star anise, fennel, cinnamon, cloves, and Szechuan peppercorns. This dish quickly became a new favorite for us and we hope it brings you health and happiness in the year of the Tiger. May your year be filled with flavor!
Ingredients
For the Soup
6 ounces long rice noodles
1 tablespoon vegetable oil
2 teaspoons kosher salt
12 ounces skinless boneless chicken breasts, sliced into strips
2 cups crimini mushrooms, sliced
½ cup carrots, sliced into 1/4 inch rounds
2 teaspoons Chinese Five Spice, ground
2 garlic cloves, minced
1 teaspoon sesame seed oil
2 tablespoons low sodium soy sauce
4 cups chicken stock
1 cup large shrimp, peeled and deveined
2 cups baby spinach
For the Garnishes
1 tablespoon sesame seeds
2 scallions, cut on a bias
1 tablespoon vegetables oil
2 eggs
Instructions
For the Soup
Cook rice noodles following package instructions, rinse with cold water and set aside.
In a 6 quart pot over medium heat, add the vegetable oil, chicken and salt. Stir to separate the pieces of chicken and cook for two minutes. The chicken should appear half white and undercooked.
Add the mushrooms, carrots and Chinese Five Spice. Give everything a stir and cook for about one minute more. Once the Chinese Five Spice smells aromatic, then add the garlic, sesame oil, soy sauce and chicken stock.
Let the mixture come to a boil and add the shrimp. Immediately take the soup off of the heat.
In a large bowl add a mound of spinach and cooked rice noodles. Using a ladle pour the soup over spinach and noodles.
For the Garnishes
In a small bowl, whisk the eggs before cooking. In a non-stick pan over medium heat add the eggs and allow to cook omelet style, flipping once half way through. Slice into ribbons to top the soup, along with sesame seeds and scallions to taste.
© 2023 World Spice Merchants https://www.worldspice.com

Because this soup cooks so quickly, have all of your ingredients ready to go before you start to cook. You can make the omelet garnish ahead of time so it has a moment to cool before slicing into ribbons.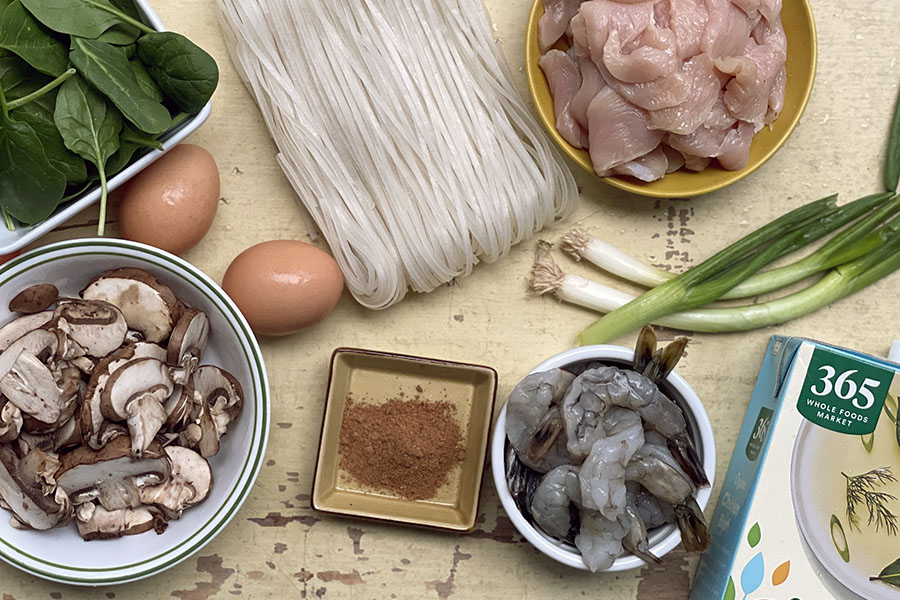 Chinese Five Spice is a delicious blend that contains all essential flavors for health and longevity. Pepper and fennel, star anise and cloves merge with spicy cinnamon to create a flavor wholly new. Happy New Year!