Ranch Tuna Casserole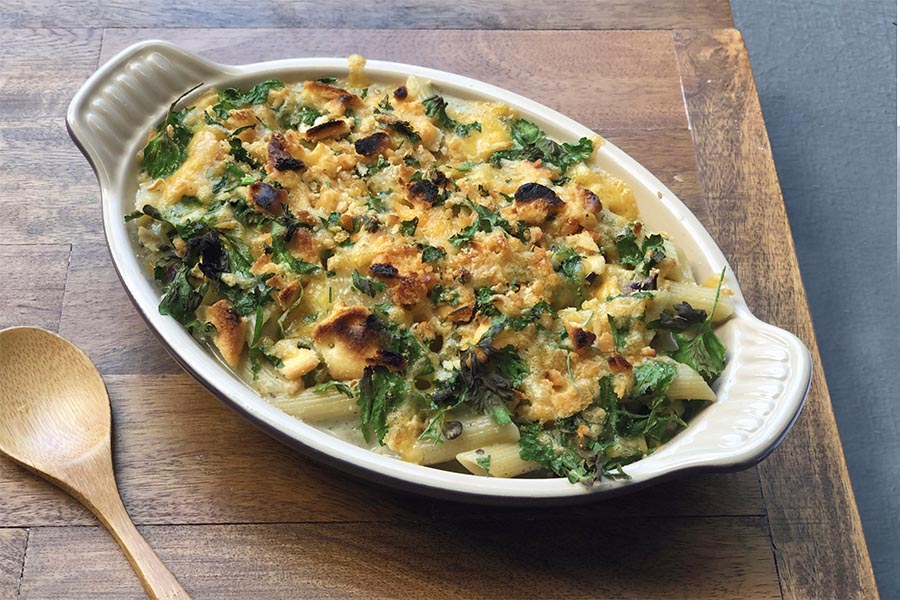 The only thing better than a warm tuna casserole is a warm RANCH tuna casserole. Flavor this nostalgic casserole with our house-made Ranch Seasoning and enjoy comfort food at is best. Easy to make on the stovetop with pantry staples and popped into the oven for a quick crisp on the topping, this is a hearty weeknight meal that comes together quickly. It will become a family favorite! As a mid-westerner, I was raised on Ranch and love the familiar flavors of garlic, dill and thyme that infuse every bite but you can mix it up with other seasonings and vegetables. Any way you choose to go, this is a perfectly saucy noodle dish that requires no fuss.
Ingredients
16 oz. penne pasta, cooked and drained
2 tablespoons unsalted butter
2 celery ribs, diced
¼ cup yellow onion, diced
1 10.7oz can cream of mushroom soup
2 cups milk
5 oz. albacore tuna
1 ½ teaspoons kosher salt
1 tablespoon Ranch Seasoning
½ cup frozen peas
½ cup sour cream
1 cup sourdough croutons
1/2 cup chopped parsley
½ cup sharp cheddar cheese, shredded
Instructions
Have the cooked pasta drained and set aside.
Select a large saute pan what will hold all the ingredients and is safe to go in the oven. In the saute pan, begin by melting the butter over medium high heat, then add the celery and onion. Stir and cook the vegetables until they become translucent and begin to brown.
Next add the cream of mushroom soup and two cups of milk.
Stir to incorporate.
Next add the tuna, salt, ranch seasoning, peas and sour cream. Stir again and bring to a simmer. Add the cooked penne and stir again to mix the ingredients. Remove from heat as soon as the ingredients are combined to avoid over-cooking the peas or over-reducing the sauce. Add additional milk if the sauce appears too thick or scant.
Sprinkle the parsely, croutons and cheese on top.
Pop the pan in the oven and broil for 3 minutes until the cheese is melted and bubbly.
Serve and eat while hot.
© 2022 World Spice Merchants https://www.worldspice.com