Roast Chai Waffles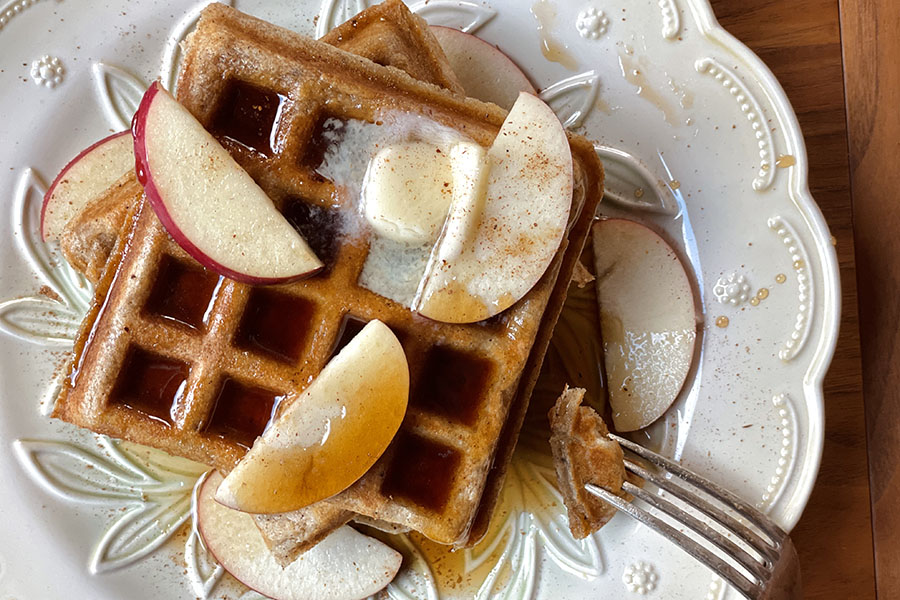 This recipe was a no-brainer. The staff has been cooking with our Roast Chai for years. This masala blend is nutty, warm, and toasted; making it delicious for baked goods. This chai has coriander, cinnamon, fennel, cumin, black pepper, and cloves. This Chai is malty and, once added to the buttermilk waffle batter, the topping was obvious to us. Apples! Living in the Pacific Northwest, we can't get enough of them right now! We would like to think they balance out the dab of butter mounted on our waffle stack. Having alternative breakfast options is always a good idea, so we kept this recipe gluten-free, but you would never know it by the looks and taste.
Ingredients
2 large eggs
2 cups buttermilk
8 tablespoons butter, melted
2 teaspoons vanilla bean paste
2 cups Bobs Red Mill AP Gluten Free Flour
3 teaspoons Roast Chai, ground
2 tablespoons granulated sugar
2 teaspoons baking powder
1 teaspoon baking soda
1 teaspoon salt
1/2 cup Namaste Perfect Flour Blend
Garnish
Sliced Apples
Butter
Maple Syrup
Instructions
In a medium sized bowl, whisk together the eggs, buttermilk, melted butter, and vanilla.
In a separate bowl whisk together the dry ingredients.
Stir the wet and dry ingredients, combining together until almost smooth.
Spray your waffle iron with a non-stick cooking spray before heating. Cook waffles according to your waffle machines suggested instructions. It will take about 1/2 a cup of batter per waffle. Cook for 4 to 5 minutes, until the iron stops steaming.
Repeat until there is no more batter remaining. Serve warm with suggested garnishes.
© 2022 World Spice Merchants https://www.worldspice.com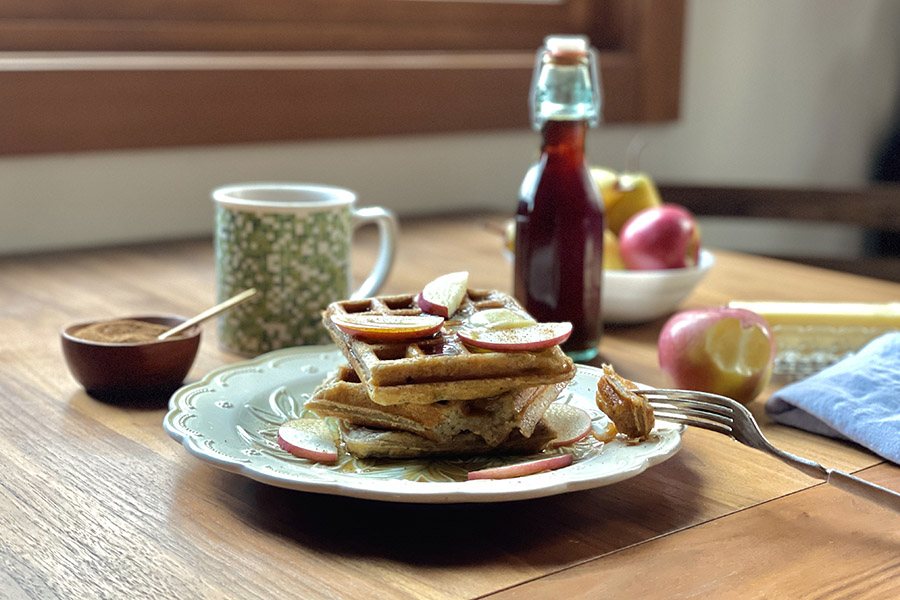 Have any leftover waffles? Refrigerate them in a ziplock and whip up some Gingerbread Pumpkin Butter for an incredibly spiced spread!