Vanilla Bean Cashew Cream
With all sorts of fruits and berries in season, it's a time of year when we've often found ourselves looking for new recipes to take advantage of a bountiful summer harvest. Looking for a break from pies and other baked goodies, we decided to try out a rich vanilla cream to complement a variety of fresh fruit.
After making it once, we wondered where it had been all our lives.
The fresh vanilla bean is the star of the show in this elegant vegan topping. There's no added sugar, because we found it wasn't needed! The dates in the cream provide plenty of sweetness, and a rich, caramel-like aftertaste. Consider carefully before making this recipe, because this stuff is addictive! One taste, and you'll want it on every fruit in sight.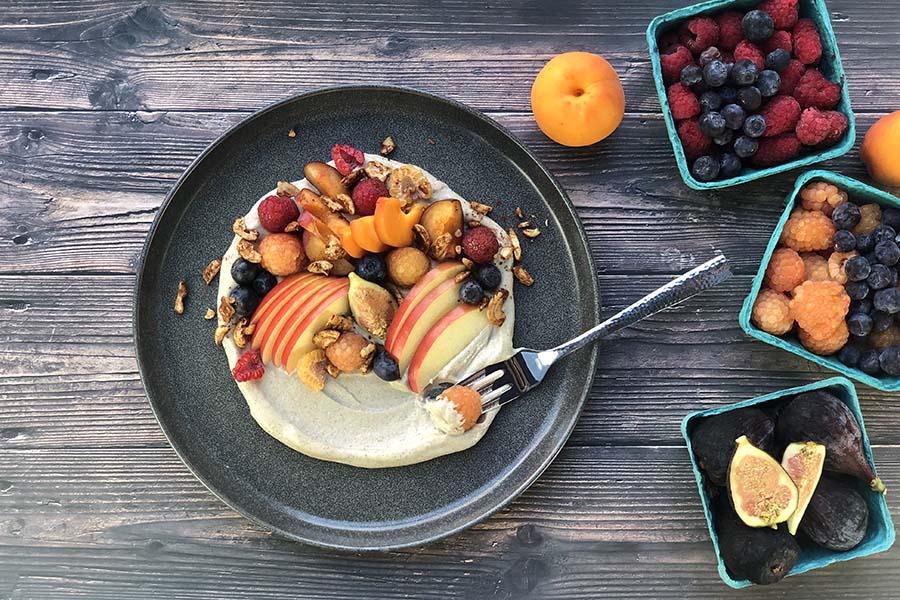 Ingredients
Cream
Garnish
3 cups of assorted seasonal fruit
2 tablespoons cinnamon roasted cashews
Instructions
Add the raw cashews to a resealable container and cover with water. Let them sit for 5+ hours or over night. Drain the water.
In a high speed blender or food processor add the soaked cashews, dates, coconut oil, vanilla bean, and half a cup of water. Blend until smooth.
Spread the cashew cream on a platter and garnish with fruit of choice and cinnamon roasted cashews. Fruits like apples are perfect for dipping and an easy snack.
Refrigerate for up to a week. Serve cold.
Notes
Feel free to add a tablespoon of cocoa powder for a chocolate version and add any variety of nut for extra crunch.
Keep this dip in mind when you're making a snack for a large group of people.
It's vegan, raw and gluten free.  🙂

© 2023 World Spice Merchants https://www.worldspice.com