Dawn's Apple Cranberry Pie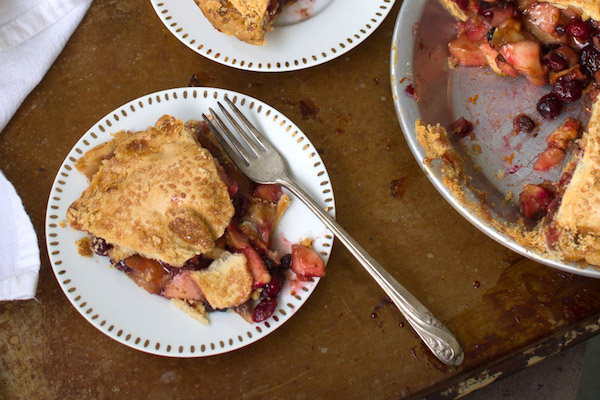 This is not your average apple pie. Infused with cranberries and currants soaked in fragrant liqueur and seasoned with Ras el Hanout, Dawn's apple cranberry pie takes an All-American classic for a spin. The seasonal and festive fruit combination makes this a great addition to any holiday table. When making the recipe, be sure to macerate the apples with sugar and spice for a few hours. This important step is key to getting the perfect texture and flavor infusion!
Ingredients
6 cups firm tart apples, peeled, cored and sliced
1 tablespoon lemon juice
1 cup sugar
1 tablespoon ground Ras el Hanout
1 1/2 cups cranberries
1/4 cup currants
1/4 cup brandy or allspice dram
3 tablespoons cornstarch
1 tablespoon orange zest
Two 9 inch pie crusts
1 tablespoon milk
1 tablespoon raw sugar
Instructions
Place the apples in a large bowl and sprinkle first with lemon juice, and then sugar and Ras el Hanout. Stir well to coat the apples thoroughly and allow to sit for 1-3 hours.
While the apples are macerating, combine the cranberries and currants with the liquor in another bowl and allow them to soak, stirring occasionally.
When you are ready to assemble the pie, preheat the oven to 425 degrees and line a pie tin with one crust and set aside.
Add the cornstarch and orange zest to the apple mixture and stir together. Add the cranberry/currant mixture and stir again.
Transfer the filling to the pie tin. Roll out the second crust and make a few small cutouts for venting, small leaf shapes are fun if you have little cutters. Put the second crust on top and crimp the edges. Decorate with leaf cut-outs, brush with milk and sprinkle with sugar.
Bake at 425 degrees for 15 minutes and turn the oven down to 350 degrees. Bake for an additional 50-80 minutes until the apples offer no resistance when pierced. If your crust begins to brown too quickly, before the apples are done, tent with foil
© 2023 World Spice Merchants https://www.worldspice.com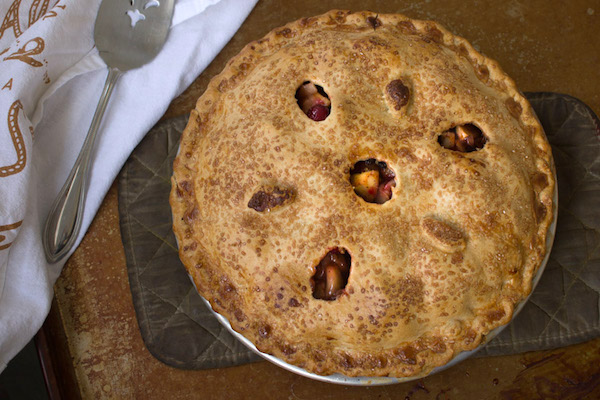 Many thanks for Dawn and Jen for sharing this inspired recipe with us! Still got more pie tins to fill? Check out this Pumpkin Pie with Apple Butter or this Five Spice Apple Carrot Pie!