Harissa Spiced Carrots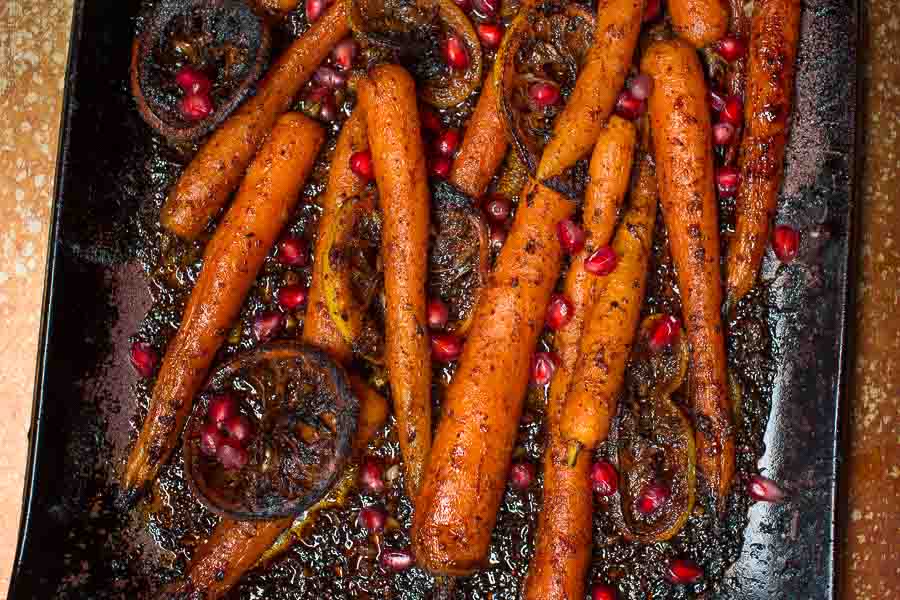 Stunning flavor and presentation makes these Harissa spiced carrots a perfect side dish for holiday entertaining. If you're looking for fresh flavor on the holiday table, this is a dish that will have your guests clamoring for more. Our Harissa blend combines smoked paprika with savory spices and hints of citrus, cinnamon and chile. The flavors pair easily with the sweet fruitiness of the carrots, the smokiness of the Urfa Biber and the snap of the pomegranate seeds.
Ingredients
2 garlic cloves, minced
1/4 cup extra virgin olive oil
1/4 cup pure maple syrup
2 tablespoons ground Harissa
1 tablespoon lemon juice
1/4 teaspoon urfa biber, or more to taste
1/8 teaspoon kosher salt
2 1/2 pounds small carrots, scrubbed, tops trimmed, and halved
1 lemon, thinly sliced, seeds removed
1/4 cup pomegranate seeds
Instructions
Preheat oven to 450 degrees.
In a small bowl, whisk together the garlic, olive oil, maple syrup, Harissa, lemon juice, urfa biber and kosher salt. Allow the mixture to sit 10-15 minutes for flavors to develop.
Toss carrots and lemon with the garlic mixture in a large roasting pan until the pan is well coated. Roast35-40 minutes, stirring occasionally, until carrots are fork tender and lemons are caramelized.
Garnish with pomegranate seeds and serve warm.
© 2023 World Spice Merchants https://www.worldspice.com