Puerco Pibil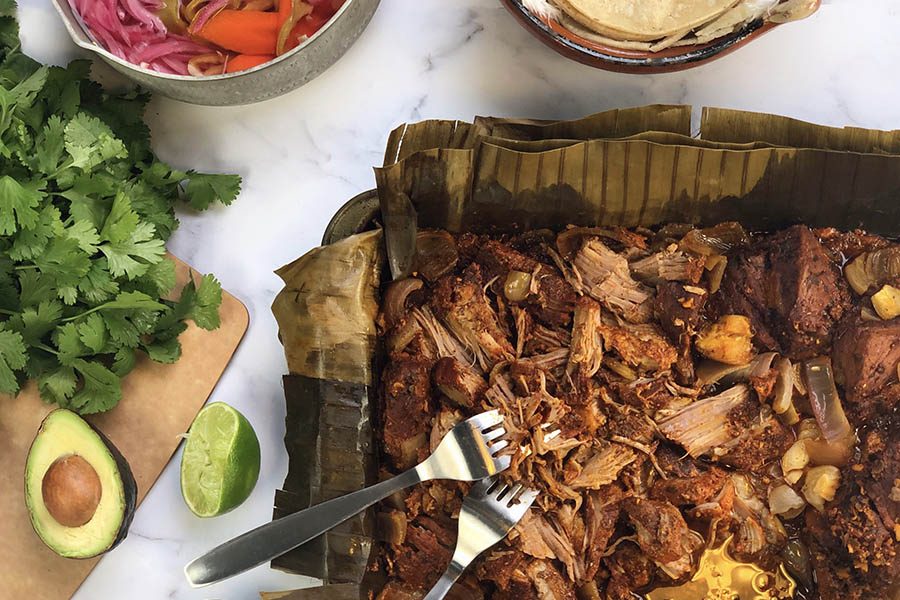 Puerco Pibil is an unforgettable dish, and the time and effort to make it is worth every minute. The meat is marinated in a combination of citrus juice and achiote paste, then roasted in banana leaves. The resulting tender, flavorful morsels of meat can be used in many ways. Traditionally served in a warm tortilla with pickled red onions, the dish originates from the Mayan region of Mexico, primarily the Yucatan peninsula.
Instructions
The day before - combine achiote paste, orange juice, lime juice, minced garlic, stock or beer, Mexican oregano and alderwood smoked salt in a large zip seal bag and mix well, being sure to break apart any lumps in the achiote paste.
Add the meat to the bag and turn to coat the entire roast with the spice mixture. Squeeze excess air out of the bag and place it in a dish in the refrigerator. Marinate overnight.
The day of - Preheat the oven to 325 degrees.
First toast the banana leaves over a medium high flame. Hold both ends of a leaf and slowly drag it back and forth over the burner on medium-high heat until the leaf changes color slightly. Turn the leaf over and toast other side in the same way. Repeat the process with each banana leaf. Note that one side of the leaf is more shiny than the other.
Line a roasting pan or Dutch oven with 3 of the toasted banana leaves, shiny side down. Allow the excess ends of the leaves to hang over the sides of the pan. Place the pork in the center of the banana leaves and pour excess marinade juices over the pork. Cover the roast with the overhanging banana leaves, using the fourth leaf, if necessary to enclose the meat.
Cook for about 3-1/2 hours, or until the meat is fork tender and falls apart.
When meat is done, remove from oven and carefully unwrap. Gently take the pork out of the pan, reserving the juices, and place onto a platter or large bowl. Shred with forks into bite-sized pieces. Pour pan juices over the pork. Taste for seasoning, adding extra salt, if needed. Serve with warmed tortillas and pickled red onions.
Notes
Store-bought achiote paste can be substituted for the home-made version above.
This recipe can also be made in a slow cooker by extending the cooking time.

© 2023 World Spice Merchants https://www.worldspice.com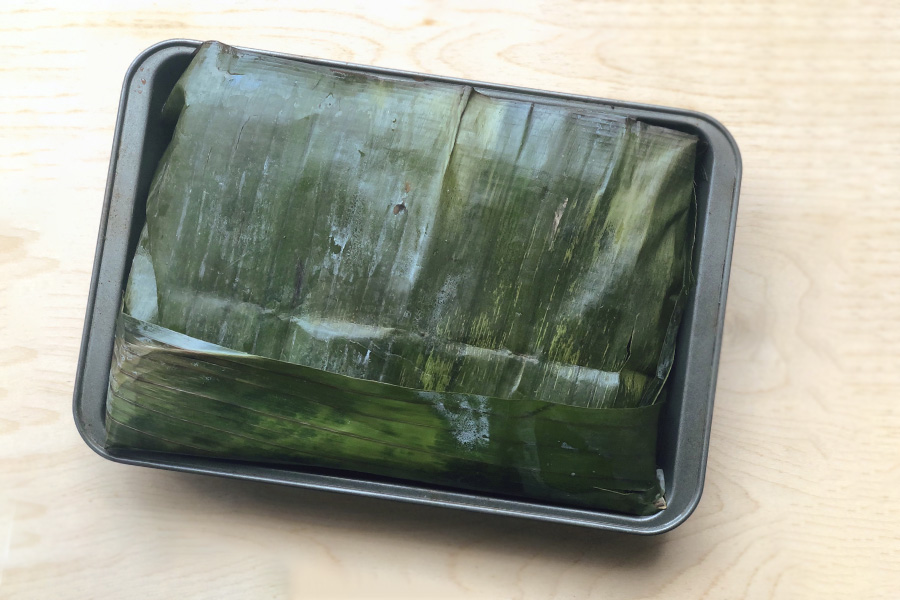 Once Upon a Time in Mexico
"El, you really must try this because it's puerco pibil. It's a slow-roasted pork, nothing fancy. It just happens to be my favorite, and I order it with a tequila and lime in every dive I go to in this country. And honestly, that is the best it's ever been anywhere. In fact, it's too good."
Agent Sands