Voodoo Cheese Ball
The Seattle Seahawks are at it again, and we are busily prepping food for the next playoff game. This time it is a spiced up version of the classic cheese ball, enhanced with a little voodoo, smoked paprika and Harissa Spiced Pecans. The presentation is fun and easy, and the football shape allows for more nutty crunch on the outside.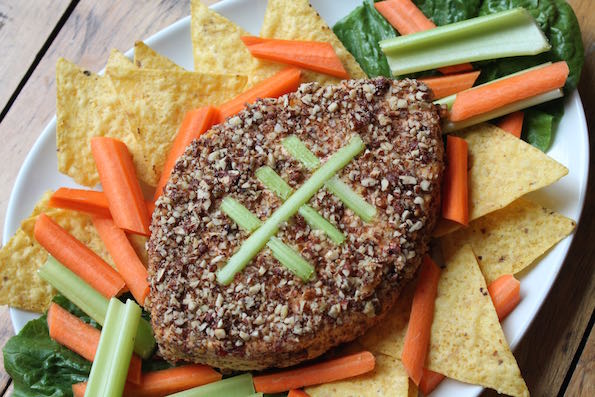 Ingredients
8 oz. cream cheese
8 oz. medium cheddar cheese, grated
2 teaspoons minced shallot
1 tablespoon minced pimentos
1 teaspoon smoked paprika
1 teaspoon Voodoo
½ cup Harissa Spiced Pecans
Carrot and celery sticks for garnish and dipping
Instructions
Take the cheeses out of the refrigerator about an hour before assembling to allow them to come to room temperature.
In a large bowl, or the bowl of a stand mixer, combine cheeses, shallots, pimentos, smoked paprika and Voodoo. Mix well.
On a plate, form the cheese mixture into a football shape and press firmly on all sides. Cover with plastic wrap and refrigerate for 1-2 hours.
While the cheese ball is chilling, make the Harissa Spiced Pecans.
When the pecans have cooled, measure ½ cup from the batch and chop finely.
Remove the cheese ball from the refrigerator and use celery or carrot strips to make the "laces" of the football. Then sprinkle the chopped nuts on the cheese ball and press firmly to make them stick. Allow the excess to fall off the cheese ball and repeat until all sides are covered.
Serve with veggie sticks and chips on game day!
https://www.silkroaddiary.com/voodoo-cheese-ball/
World Spice Merchants https://www.worldspice.com
If you want more fan fare, whip up a batch of Hawk Wings too!