For those of us who joined cookbook club last year – THANKS! – for making it such a huge success. 2015 is shaping up to be even bigger and better, with loads of new cookbooks to explore and an expanded summer series of social cookouts at our warehouse location. Here are the selections: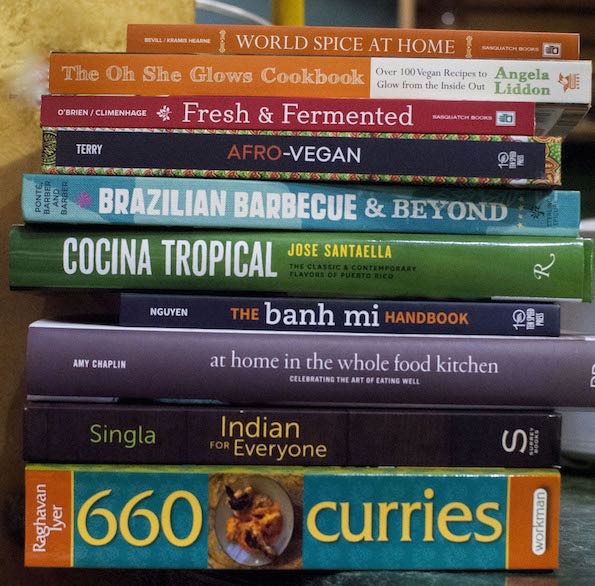 February 4th: World Spice at Home: New Flavors for 75 Favorite Dishes by Amanda Bevill and Julie Kramis-Hearne
March 4th: The Oh She Glows Cookbook: Over 100 Vegan Recipes to Glow from the Inside Out by Angela Liddon
April 1st: Fresh & Fermented: 85 Delicious Ways to Make Fermented Carrots, Kraut, and Kimchi Part of every Meal by Julie O'Brien & Richard J. Climenhage
May 6th: Afro Vegan: Farm-Fresh African, Caribbean & Southern Flavors Remixed by Bryant Terry
June 3rd: Brazilian Barbecue and Beyond by David Ponte, Jamie Barber, and Lizzy Barber
July 1st: Cocina Tropical: The Classic & Contemporary Flavors of Puerto Rico by Jose Santaella
August 5th: Asian Dumplings: Mastering Gyoza, Springrolls, Samosas and More and The Banh Mi Handbook: Recipes for Crazy-Delicious Vietnamese Sandwiches by Andrea Nguyen
September 2nd: At Home in the Whole Food Kitchen: Celebrating the Art of Eating Well by Amy Chaplin
October 7th: 660 Curries by Raghavan Iyer
Membership in the club is free, and we "Meet & Eat" the first Wednesday of the month. Every member brings a dish prepared from the featured cookbook and we all gather to discuss the book, the food and whatever else comes to mind! Benefits include a 20% discount off cookbook club selections and a giveaway at each meeting.
Sign up in the store or email us at: [email protected]